514 Graduates Urged to "Do Justice to Four Years of Dialogue"
May 20, 2007
Also: Karen Koning AbuZayd '63 Urges Graduates to "Take Up the Challenge"; Bob Steele '69 and Bill Welch '40 Receive Honorary Degrees ; View Commencement Photo Gallery; Order Your Commencement DVD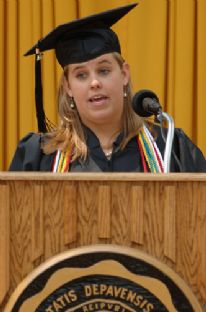 May 20, 2007, Greencastle, Ind. -

[Download Video: "Bess Evans '07" - 672kb] "In our last four years, we have had many dynamic experiences, " senior Elisabeth W. "Bess" Evans told her classmates, moments before they became graduates of DePauw University. The recipient of the Walker Cup -- which recognizes the senior student judged to have contributed the most to the University during his or her four-year college career -- Evans was among the speakers who celebrated the graduation of 514 students this afternoon on the lawn of historic East College. DePauw's 168th annual commencement took place under ideal conditions: blue skies and a temperature of 81 degrees, which was offset by occasional cool breeze.
"From long nights in the library to long nights when we should have been in the library; from trips around the world to trips just around campus, we have had four years filled with a lot of learning and a lot of wonderful memories," Evans said in her address to the Class of 2007.
The senior recalled, as a prospective student, hearing of the "uncommon success" of DePauw graduates, and of the bestselling authors and leading political figures the University has taught through its history.

[Download Audio: "Uncommon Success" - 215kb] "But over the past four years of discussion and dialogue, I've discovered that uncommon success doesn't just live in Pulitzer Prizes or high-held offices,"
Evans stated. "Uncommon success instead is found within the words that we speak, the lining of our lives. It comes in the way we make our choices, the way we treat others, the way we express our passions. It comes in how we have formed our opinions in these dialogues here, but more importantly, it now comes in how we act on these opinions."
Evans concluded,

[Download Video: "A Gift and a Challenge" - 1522kb]"We leave DePauw with a mind full of ideas, a soul full of energy -- after a few days of post-graduation sleep, of course -- and a world to change. Uncommon success allows us to name what makes us different than the average college graduate of 2007. It is a gift, but it is a challenge. We must live our uncommon success and not just discuss it. We must do justice to the four years of dialogue that the classrooms of Asbury, the tables at the Hub, and the lounges in our living units have afforded us."
As she offered her congratulations to classmates, Evans added, "May your uncommon success truly change the world, or at least the world of those around you."
In his remarks, DePauw President Robert G. Bottoms recollected the speech he gave "the last time we were all together," on August 23, 2003,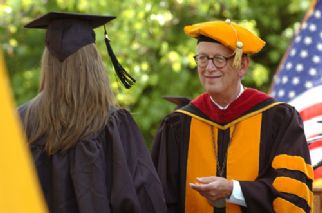 the day the Class of 2007 arrived on the Greencastle campus. In that address, Dr. Bottoms touched on the terrorism threat that lingered after the attacks of 9/11 and the war in Iraq. "And we wonder four years later if the world is any better at all," he said today. "In such a world as we live, peacemakers are to be admired, to be longed for. And that is part of our hope for you."
The University also hopes

[Download Audio: "President Bottoms" - 176kb] "that you feel a sense of thankfulness, for much of the world has been denied the educational privilege we celebrate today," the president noted. "I also trust as you graduate from DePauw that your friends will stay with you, that you will continue to return to campus, and that as the DePauw family we will continue to support one another. I trust that you are thankful to those who made your education possible, and that one day you will return the favor."
The keynote address to the Class of 2007 was provided by Karen Koning AbuZayd,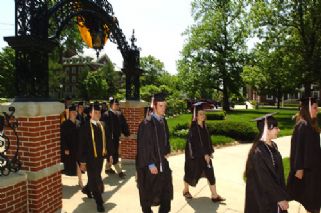 commissioner-general of the United Nations Relief and Works Agency (UNRWA) and 1963 graduate of DePauw. AbuZayd also received the McNaughton Medal for Public Service.
Two distinguished alumni of DePauw University -- Robert M. Steele '69 and William F. Welch '40 -- were awarded honorary doctoral degrees.
For more information on DePauw's 168th annual commencement, click here. Order a DVD -- which will include a multi-camera shoot of the entire ceremony and will be replicated by Sony Disc Manufacturing -- here.
Back