UNRWA Chief Karen Koning AbuZayd '63 Urges Graduates to "Take Up the Challenge" at 168th Commencement
May 20, 2007
Also: Video of Complete Address; 514 Graduates Urged to "Do Justice to Four Years of Dialogue"; Bob Steele '69 and Bill Welch '40 Receive Honorary Degrees ; View Commencement Photo Gallery; Order Your Commencement DVD
May 20, 2007, Greencastle, Ind. - DePauw University "provided me with a foundation for a life of service," Karen Koning AbuZayd, commissioner-general of the United Nations Relief and Works Agency (UNRWA) and 1963 graduate of DePauw University, said at her alma mater's 168th annual commencement today. She told the 514 graduates and the crowd that filled the lawn of historic East College,

[Download Video: "DePauw's Impact" - 504kb] "The DePauw environment gave me a thirst for knowledge, along with a penchant to question conventional wisdom with healthy skepticism. It was here on this campus that the universally powerful precept about treating all human beings with genuine respect was confirmed for me."
AbuZayd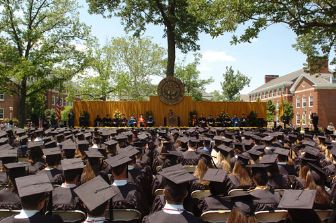 recalled meeting a fellow DePauw student from Nigeria in 1960. "Perhaps it was our conversations about the trials and impossibilities of his seemingly far away continent, or simply the University-inspired inclination to explore unknown worlds that triggered my curiosity. What is certain is that I found a calling in the world of refugees," she declared.
Karen Koning AbuZayd received a bachelor's degree in nursing from DePauw in 1963, and a master's in Islamic Studies from McGill University. In her early career, she lectured in political science and Islamic studies at Makerere University in Kampala, Uganda, and at Juba University in southern Sudan.
She began her humanitarian career in Sudan in 1981, dealing with Ugandan, Chadian and Ethiopian refugees fleeing from war and famine in their own countries. From Sudan she moved to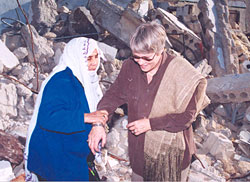 Namibia in 1989 to help coordinate the return of apartheid era refugees, a successful repatriation operation which led to elections and independence. A year later the Liberian civil war erupted and AbuZayd moved to Sierra Leone to head the United Nations High Commissioner for Refugees' (UNHCR) office in Freetown, initiating a new emergency response, that of settling 100,000 Liberians in 600 villages along the Liberian/Sierra Leone border.
In June 2005, she was appointed by UN Secretary-General Kofi Annan to lead the United Nations Relief and Works Agency, described as "the main source of support for Palestinian refugees for the past 55 years." From her base in Gaza, AbuZayd helps to oversee the education, health and social services and micro-enterprise programs for 4.3 million Palestinian refugees.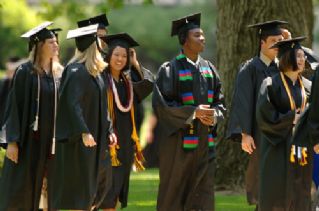 Working with refugees is fulfilling, AbuZayd told the Class of 2007, because of "the human element and the international character both shared by every refugee situation." Refugees have lost their homes and their own government's protection, the commissioner-general pointed out, "often in violent circumstances. To work with refugees is to help restore human dignity to those who have endured traumatic disruption in their sense of self and belonging," she said.
"A mandatory point of departure in such work is the acknowlegement of the humanity and individuality of every person, and consequently, putting human rights and humanitarian principles into practice to meet each one's needs.
Nothing, in my view, can be more gratifying."
AbuZayd told the graduates,

[Download Video: "Finding Fulfillment" - 693kb] "I recognize that each of will follow your own individual path. I do not expect to recruit all of you to the world of humanitarian action, or of mulilateralism. I simply want to share with you the deep personal satisfaction I've found in working with those who are among the most vulnerable populations in the world today."
In the 1940s and 50s, refugees from Europe were commanding the world's attention, AbuZayd recalled. Southeast Asia was the focus of the 1960s and 70s, with Africa and the Americas dominating the 80s, and the Balkans the following decade. "And still today, in this new century, the number of refugees and displaced persons throughout the world approaches 20 million. Each group has fled in response to a complex and compelling interplay of political, ethnic, socio-economic, demographic and governance set of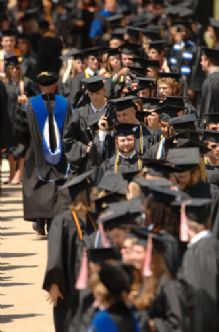 issues. Man-made disasters and migratory pressures have begun to add a further layer of complexity."
AbuZayd, who received the McNaughton Medal for Public Service during today's ceremony, says, "The upshot is that no refugee situation can be resolved unilaterally; all of them cooperative solutions and collective efforts by the world community."
Poverty, war and preventable disease and global warming are among the challenges the world has grappled with for years, and are issues today's graduates will continue to confront.

[Download Audio: "Meeting The Challenges" - 105kb] "It will require all your optimism, all your good will. It will take grit and courage to pursue goals that may not be reached in your lifetime. And it will take perseverance, because as with the Palestinian issue, there may be none of the quick, neat and total solutions we like so much."
The commissioner-general urged the graduates

[Download Video: "Working for Change" - 973kb] "to take up the challenge, to try to change the world for the better. And to do so being fully aware that there are no instant answers and that the problems facing your generation will yield only to patience, persistence, cooperation and comprehensive approaches. Progress is possible, even if its agonizingly slow. And it is to these cumulative effects of small steps that you can usefully commit your energies."
Two distinguished alumni of DePauw University --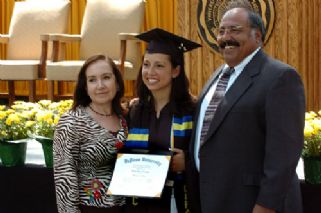 Robert M. Steele '69 and William F. Welch '40 -- were awarded honorary doctoral degrees.
A summary of the speech to graduates by Elisabeth W. "Bess" Evans '07, the recipient of the Walker Cup, can be accessed here.
For more information on DePauw's 168th annual commencement, click here. Order a DVD -- which will include a multi-camera shoot of the entire ceremony and will be replicated by Sony Disc Manufacturing -- here.
Back