Bondi wins Division III tennis title
May 20, 2007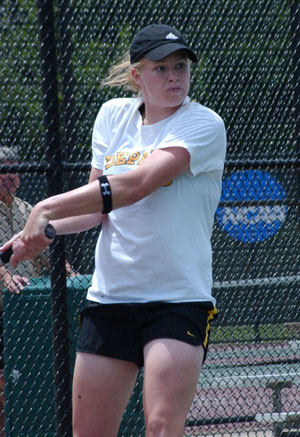 May 20, 2007, Fredericksburg, Va. - DePauw senior Liz Bondi wrapped up her collegiate career by winning the University's first individual tennis national title as she defeated defending champion Emily Applegate of Washington & Lee in the NCAA Division III singles final 6-2, 4-6, 7-6 (7-3).
In the third and deciding set, each player held serve and Bondi fought off three match points. She eventually won the tiebreaker, 7-3.
The 2007 Intercollegiate Tennis Association Senior of the Year finished the 2006-07 season with a 31-2 singles record and a 25-3 doubles mark. Over the course of her career the Park Ridge, Ill., resident finished with a 124-10 singles record and 119-15 in doubles. This year she won 63 of 68 singles sets.
Bondi is the fourth DePauw student-athlete to earn an individual national title. DePauw's three previous Division III national champions were Alan Hill in track and field (pole vault) in 1981, Midi Smyth in swimming (100-yard backstroke) in 1985 and Colin Smith in track and field (discus) in 1998.
In March she was named the most outstanding player of the NCAA Division III Women's Basketball Championship after leading the Tigers to the first national team championship in school history.
Liz Bondi Career Highlights
Intercollegiate Tennis Association Fall Tournament
      Won the Division III Singles Tournament; October, 2006
      Second in Division III Singles Tournament; October, 2004
      Won Division III Doubles Tournament; October 2004 and 2006
      Part of first Division III Doubles Team to win ITA "Super Bowl" of College Tennis (October, 2004) and earn a spot in ITA Division I Indoor championship.
NCAA Division III Tennis Championship
      Single champion; May 2007
      Singles runner-up; May, 2005
      Singles semifinalist; May 2006
      Singles quarterfinalist; May 2003
      Doubles finalist; May 2003 and May 2006
      Doubles quarterfinalist; May 2005
      Doubles first round; May 2007
Intercollegiate Tennis Association Awards
      Senior of the Year; 2007
      Player to Watch; 2003
Intercollegiate Tennis Association All-America Team
      2003 (singles and doubles)
      2005 (singles and doubles)
      2006 (singles and doubles)
      2007 (singles and doubles)
NCAA Division III Women's Basketball Championship
      2007 Most Outstanding Player of Division III Finals
      2006 All-Sectional Team
Kodak/Women's Basketball Coaches Association All-America
      Honorable Mention All-America; 2005-06
      All-America; 2006-07
D3Hoops.com All-America
      Second team; 2006-07
Southern Collegiate Athletic Conference Player of the Year
      2005, 2006, 2007 Women's Tennis Player of the Year
      2006, 2007 Women's Basketball Player of the Year (first SCAC student-athlete to earn both in sport other than cross country/track)
SCAC Academic Honor Roll
      2005-06: Basketball, Tennis
      2004-05: Basketball, Tennis
Record of teams on which she's competed
Year                 Tennis              Basketball
2002-03             25-4                  Did not compete
2004-05             16-7                  23-6
2005-06             24-2                  29-2
2006-07             19-3                  31-3
Totals               84-16                83-11
Career Tennis Records
SINGLES      Total             
2002-03          37-4              
2004-05          34-3              
2005-06          22-1              
2006-07          31-2              
Totals          124-10            
DOUBLES     Total             
2002-03          36-4              
2004-05          35-7              
2005-06          23-1              
2006-07          25-3              
Totals          119-15            
Back