Prof. Steve Timm Writes of DePauw Nature Park in Outdoor Indiana Magazine
May 25, 2007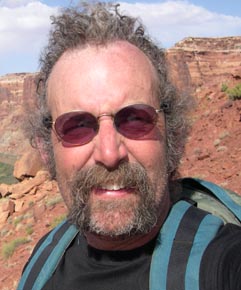 May 25, 2007, Greencastle, Ind. - "I look across the quarry proper -- a collision of what is and what was -- and I think of my son's youthful curiosity, thankful to have retained mine," writes Steve Timm, professor of communication and theatre at DePauw University, of a recent visit to the DePauw Nature Park. The May/June issue of Outdoor Indiana features an essay by Professor Timm on the 520-acre park, which "supports student/faculty research and creative efforts while offering opportunities for reflection, solitude and recreation."
As Timm and his 12-year-old son walked the property, the professor writes: "I pause to contemplate the violence and energy it took to crush and remove these layers of limestone. I imagine what this landscape was like before the noise, the lives labored here during 50-plus years of mining activity, and the recovery of flora and fauna since the machinery was silenced in the mid-1970s. The sheer walls invite a dramatic pause -- an unfamiliar and unsurprising reminder of what lies beneath our fields and forests."
The full-page essay appears in the magazine's "Trailing This Issue" section. The inside front cover features Light
Puddles, a painting of the quarry by Barbara Fields Timm, the author's wife, who taught art at DePauw from 1987 to 2002 (her work was recently featured in NUVO).
A photo of the Nature Park, which appears on the page opposite Steve Timm's essay, was taken by Richard Fields (Barbara's brother), who was a student at DePauw in the 1970s.
Visit Outdoor Indiana online by clicking here.
The DePauw University Nature Park is open to the public from sunrise to sunset, seven days a week. Camping is permitted only in designated areas and with authorization. In the Fall of 2007, the Janet Prindle ('58) Institute for Ethics will open in the DePauw Nature Park. For more information, contact Brien Holsapple, park ranger, at (765) 658-1076, or the Public Safety Office at (765) 658-4261.
Visit the DePauw Nature Park online by clicking here.
Source: Outdoor Indiana
Back