Prof. Jeff McCall '76 Discusses Viewer Discretion Advised in Live TV Interview
May 24, 2007
May 24, 2007, Greencastle, Ind. - "The idea is to help make people more aware of how the media operate: how news judgments are made, how they should deal with television and their kids, how the media affect the political landscape," says Jeffrey M. McCall of his new book, Viewer Discretion Advised: Taking Control of Mass Media Influences. McCall, professor of communication at DePauw and 1976 graduate of the University, appeared live on Champaign, Illinois CBS affiliate WCIA-TV's morning news program. The interview was conducted by Anne Ewald Dill '99, who introduced Dr. McCall as "my former college adviser."
"The book is a call for people to be more active in their media consumption and to take charge, and to let media producers know what they think about the content," McCall told the program.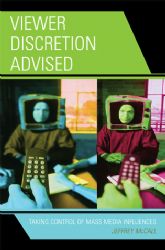 A video clip of the complete segment is available at the station's Web site.
Jeff McCall's columns on media matters have been published in a number of newspapers. He is a widely quoted media observer and critic, having been interviewed and quoted by over 75 newspapers, including the Los Angeles Times, Newsday, Christian Science Monitor, and others, and he has also made a number of appearances on radio and television shows.
Learn more about Viewer Discretion Advised in this previous story.
Source: WCIA (CBS)/Champaign, Ill.
Back