"Somebody Hasn't Been Doing Their Job" at Ravaged Refugee Camp, Says UNRWA Chief Karen Koning AbuZayd '63
May 26, 2007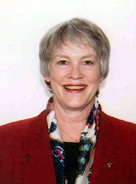 May 26, 2007, Greencastle, Ind. - "Somebody hasn't been doing their job," says Karen Koning AbuZayd, commissioner-general of the United Nations Relief and Works Agency (UNRWA). AbuZayd, a 1963 graduate of DePauw University, is quoted in a Washington Times story detailing fighting that has broken out since the arrival of heavily armed foreign forces in the Nahr el-Bared refugee camp in northern Lebanon.
The Times' Betsy Pisik reports, "The extremists of Fatah Islam, who local reports say hail from Syria, Saudi Arabia, Yemen and Bangladesh, apparently entered the camp, just north of Tripoli, several months ago. They are thought to have arrived in a group, not individually. Officials of the UNRWA could not say how a large band of foreigners carrying what has been described as mortars, rockets, explosive belts and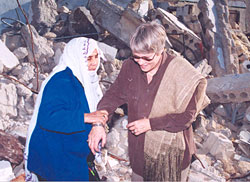 other heavy weapons were able get past the Lebanese army soldiers stationed outside the camp. They also could not explain why militias of young Palestinian men who provide security and gather intelligence throughout Nahr el-Bared and other Palestinian areas allowed foreign fighters to settle there."
AbuZayd, who presented the commencement address at her alma mater last Sunday, says, "The problem with refugee camps in Lebanon is that they are self-policed ... This group showed up a few months ago. As far as we know, it is mainly a foreign group."
She adds, "UNRWA couldn't do anything because the United Nations is not responsible for policing or administering the camps, only their own installations inside them."
Battles erupted last weekend, and relief workers have now relocated some 25,000 refugees away from the fighting. Reports indicate about a third of the homes at the camp
were damaged or destroyed, and that two mass graves had been created for "several dozen" victims. The situation inside the camp is now described as "calm but tense."
Access the complete text at the newspaper's Web site.
In her May 20 speech to DePauw's Class of 2007, Karen Koning AbuZayd stated that the University "provided me with a foundation for a life of service." You'll find a story which includes photos and video clips by clicking here.
Back