Lawrence Serewicz '90 Authors America at the Brink of Empire
May 29, 2007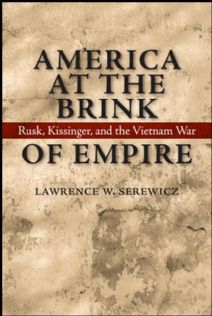 May 29, 2007, Greencastle, Ind. - Lawrence W. Serewicz, a 1990 graduate of DePauw University, has authored America at the Brink of Empire: Rusk, Kissinger, and the Vietnam War. A synopsis from the publisher, Louisiana State University Press, states that the book "explores the foreign-policy leadership of Dean Rusk and Henry Kissinger regarding the extent of the United States' mission to insure a world order. Lawrence Serewicz argues that in the Vietnam conflict, the United States experienced an identity crisis -- a Machiavellian moment, as conceived by J.G.A. Pocock -- whereby America's world order role, an assumed imperial role, stretched the country to the limits of its identity as a republic."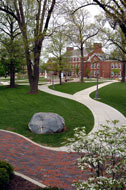 It continues, "Serewicz offers a revealing look at the parts played by Rusk, President Lyndon Johnson, and Kissinger in bringing the nation to, and averting it from, the brink of empire in the years 1963–75."
An economics major at DePauw, Lawrence Serewicz works for the Wear Valley District Council in the Northeast of England.
Read more by clicking here.
Back