J. Nichols '89 Examines Efforts to Save Stranded Whales
May 28, 2007
May 28, 2007, Greencastle, Ind. - "If you're going to look at this mathematically, you really want to spend your time and energy where you can save 50 whales at a shot, like stopping Japan from whaling," Wallace J. Nichols, a marine biologist at the Ocean Conservancy and 1989 graduate of DePauw University, tells the San Jose Mercury News. Dr. Nichols is quoted in a story detailing the more than two week efforts to save two lost and injured humpback whales who are stranded in the Sacramento River.
Nichols adds, "I tend to fall in the camp of let's do everything we can, and use that hope and rally around it and try to save a whale and translate that into bigger things, a conversation about global warming, about endangered species, changes that are happening in the ocean."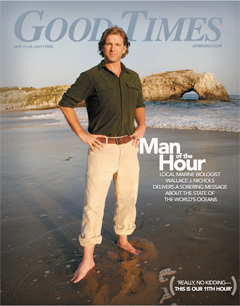 The Mercury News' Julia Prodis Sulek notes, "Nichols of the Ocean Conservancy in Santa Cruz points out that the overwhelming amount of charitable dollars is spent on humans, not animals. According to the Chronicle of Philanthropy in 2005, about 3 percent of all U.S. charitable giving -- or $9 billion of $260 billion -- went to environmental and animal groups. Of that, less than 1 percent -- or $100 million -- goes to the ocean, according to the Ocean Foundation."
Read the article at the newspaper's Web site.
J. Nichols is featured in Leonardo DiCaprio's new documentary, The 11th Hour and was profiled in Good Times, a weekly newspaper in Santa Cruz. Learn more in this previous story.
Back