Commencement DVD Should Ship in About 10 Days
May 30, 2007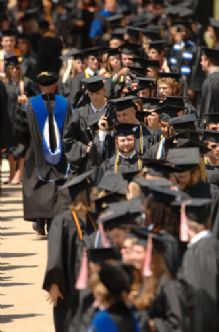 May 30, 2007, Greencastle, Ind. - The DVD of DePauw's 168th annual commencement, which took place ten days ago, has been mastered and should ship in about ten days. Ken Owen '82, director of media relations at DePauw, finished work on the disc yesterday and shipped the final copy to Sony Disc Manufacturing, where it will be replicated. Graduates and family members who purchased the DVD should receive the commemorative disc in the mail within approximately two weeks.
The disc -- which costs $25 for the first copy, and $10 for each additional copy being sent to the same address -- remains available. Order online by clicking here.
"Given that it takes even a Hollywood studio several weeks to turn a DVD around, I give credit to the team at DePauw that is able to create a high quality product in a very short period of time," says Owen. He was assisted on the project by Matt Bowen, who created the menus for the disc and contributed more than 275 images to the photo gallery, and Dian Phillips, who designed the artwork for the disc packaging and the platter itself. R. Jay Cortrecht and Clay Carter also provided assistance.
The DVD includes the complete, almost two-hour ceremony, and the cameras capture every single graduate accepting their diplomas from DePauw President Robert G. Bottoms. As in past years, the DVD's menu allows you to quickly access the spot in the program you want to see. If you're looking for a graduate whose last name is Taylor, for instance, you click on the letter 'T' in the menu, you're immediately taken to the first person whose last
name begins with the letter 'T' receiving his or her diploma. Users can also jump to specific sections of the program (i.e. the commencement address by Karen Koning AbuZayd '63), or watch the program from beginning to end.
Also included are a bevvy of bonus materials, including the aforementioned photo gallery, a variety of campus highlights from the graduating class' four years at DePauw (among them: clips of visits by Mikhail Gorbachev and Ambassador Paul Bremer and highlights of the women's basketball team winning the 2007 national championship), "Monon Memories" for the same period, and a vintage admission film from fifty years ago. All told, viewers can enjoy more than three hours of content.
The commencement disc is the twelfth DVD that DePauw has produced -- the 2001-05 commencements and the last six Monon Bell Classics also received the digital treatment. Read more about the Monon Bell discs and access an online order form by clicking here.
For comprehensive coverage of DePauw's 168th annual commencement, click here.
Back