Ward returns to DePauw staff as offensive coordinator
May 30, 2007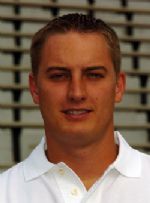 May 30, 2007 Greencastle, Ind. - Dustin Ward, offensive coordinator at St. Joseph's (Ind.) College and former DePauw running backs coach, has been named the Tigers' offensive coordinator and offensive line coach.
"Dustin brings a lot of football knowledge and energy to our staff," DePauw head coach Matt Walker said.
"He's familar with the University and the football program and we had a great working relationship on the offensive staff three years ago."
Ward served as the Tigers' running backs coach during the 2004 season under head coach Bill Lynch and helped DePauw to an 8-2 finish. During that season the Tigers averaged over 250 rushing yards per contest and rushed for 25 touchdowns.
At St. Joseph's, Ward also served as the quarterbacks coach and directed the Pumas to school records in passing yards and passing touchdowns as the offense ranked 12th in NCAA Division II passing offense (263.1 yards per game) and 34th in total offense (361.7 yards per game). During the 2005-06 season, he served as a recruiting assistant at Indiana University.
The 2003 University of Illinois graduate earned four letters at quarterback for the Fighting Illini where he completed 54 percent of his passes for 1,946 yards and 12 touchdowns in 22 career games. He also was a two-time winner of the Chancellor's Award.
Back