Bondi a finalist for the Honda Division III Athlete of the Year
May 31, 2007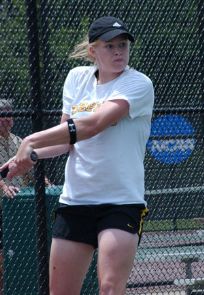 May 31, 2007 Greencastle, Ind. - DePauw's Liz Bondi has been named one of 11 finalists for the Honda Division III Collegiate Woman Athlete of the Year in an announcement made by the Board of the College Women Sports Awards.
Bondi was nominated in the sport of women's tennis after capturing the NCAA Division III singles championship and earning Senior of the Year honors from the Intecollegiate Tennis Association. She finished her tennis career as a four-time all-America selection in both singles and doubles.
In addition to her outstanding tennis career, Bondi was the leading scorer and rebounder on this year's Division III national champion basketball squad. The Kodak/Women's Basketball Coaches Association First Team All-America choice was also the most outstanding player at the Division III Women's Basketball finals.
Ballots are distributed to all NCAA senior woman administrators to determine the Division III winner. The award presentation will take place at a press conference on June 25 at Columbia University in New York City. American Honda Motor Co., Inc. will donate $1,000 to the women's athletic fund of each nominee's University and $5,000 to the school of the Division III Collegiate Woman Athlete of the Year recipient.
Back