Magazine Features Prof. Matt Hertenstein's Research on Communicating Through Touch
June 1, 2007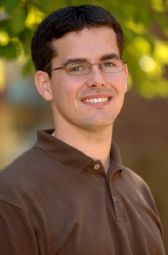 June 1, 2007, Greencastle, Ind. - "At DePauw University in Greencastle, Indiana, Dr. Matthew Hertenstein believes touch can also communicate emotion," reports the latest issue of Sunrise magazine. "Participants in a trial were touched by a stranger they couldn't see, who had been asked to convey a particular emotion such as anger, fear, love, gratitude and sympathy. Amazingly, they were able to tell each emotion with great accuracy, comparable to visual and vocal emotion tests."
Professor Hertenstein tells the magazine, "Our study is the first to provider rigorous evidence showing humans can reliably signal love, gratitude and sympathy with touch. These findings raise the interesting possibility that touch may convey
more positive emotions than the face."
Access a PDF of the complete article, "The Biology of Touch," at Sunrise's Web site.
The National Institutes of Health recently awarded a grant of $139,719 to Matt Hertenstein, associate professor of psychology at DePauw, for a project entitled, "Infant Sensitivity to Televised Emotional Displays." Research conducted by Matt Hertenstein and his students was featured on National Public Radio in October.
Professor Hertenstein's Emotion Lab, based at DePauw and staffed by undergraduates, studies infant emotional development as well as tactile communication in adulthood. Visit it online by clicking here.
Source: Sunrise
Back