Alumni Reunion Weekend Begins Wednesday
June 4, 2007
Also: Alumni Reunion Weekend Schedule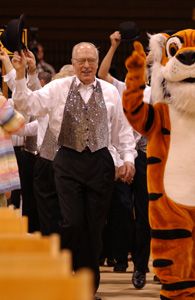 June 4, 2007, Greencastle, Ind. - The annual celebration of the DePauw experience and the friendships and traditions established over the University's 170-year history -- Alumni Reunion Weekend -- is set to begin this Wednesday, June 6. A variety of activities are planned for celebrants -- including class dinners, Alumni College sessions, and speeches by Vernon E. Jordan Jr. '57 for the golden anniversary class, and Susan M. Ansel speaking on behalf of her Class of 1982, which is celebrating its 25th reunion. Events continue through the end of the weekend.
Online registration for events which require tickets is now closed. For information, contact the Office of Alumni Relations, toll-free, at (877) 658-2586.
All of those who return for Alumni Reunion Weekend will receive a free,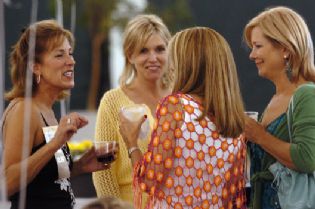 commemorative DVD, "Celebrating Our Legacy." Compiled by DePauw's director of media relations Ken Owen '82, the disc contains more than three hours of features, including six vintage admission films which date back to 1954. Culled from the University's Archives, the films have not been widely seen since they were screened at high schools and alumni gatherings at the time of their release. They capture a look at campus landmarks and students from various eras, as well as footage of legendary figures from DePauw's past, including Professors Raymond Pence, Donald "Jack" Cook (pictured below) and A.W. Crandall, Presidents Russell J. Humbert and William E. Kertstetter, and alumni such as Percy Lavon Julian '20, Ford C. Frick '15
and Bernard Kilgore '29.
Also included on the DVD are photo galleries for each of this year's reunion classes (1932-2002); a chat with President Robert G. Bottoms; each of the 60 "Monon Memories" that have been created to date; the newly-updated Ballad of the Monon Bell video; selected recent campus highlights (ranging from recent campus visits by Mikhail Gorbachev, Mitch Albom and Gen. Wesley Clark to the women's basketball team capturing the NCAA Division III national championship in March); and other features.
Among the weekend's highlights: the Friday evening All-Alumni Kickoff Gala at the Indoor Tennis and Track Center; Alumni College sessions which include a look at how DePauw uses technology in its classrooms, a conversation
with Vernon Jordan '57, adviser to former Presidents Clinton and Carter and former president of the National Urban League, and a discussion with Jeffrey M. McCall '76, professor of communication at DePauw, about his new book, Viewer Discretion Advised: Taking Control of Mass Media Influences.
Saturday morning's Alumni Celebration will include the procession of the 25th and 50th reunion classes, a nostalgic audiovisual roll call of classes, induction into the Indiana Asbury Society for alumni celebrating 50 or more reunion years, the aforementioned
speeches, and a University update by President Bottoms.
On Saturday afternoon, a panel of leaders engaged in DePauw's Greek Fact-Finding process will bring alumni up-to-date on the discussions and actions that are designed to improve Greek life at the University, as well as answer your questions.
Community Leadership Awards will recognize members of each reunion class (classes ending in 2 or 7 this year) who make a difference through their leadership of community organizations.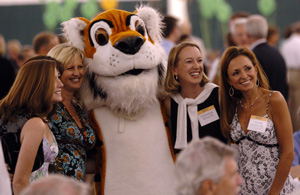 Other planned events include an exhibition of alumni artwork in the Richard E. Peeler Art Center, "D" Association reception, Tiger Tennis Ball, Saturday afternoon receptions and the traditional Alumni Chapel on Sunday.
For more information about and a complete schedule of events for Alumni Reunion Weekend 2007, including reunion dinners, click here. On that Web site, you also can click on your reunion year to see who is planning to attend.
Back