Angie Hicks '95 Continues to Build "Glorified Word-of-Mouth Network"
June 6, 2007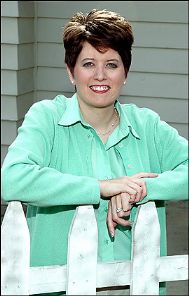 June 6, 2007, Greencastle, Ind. - "One of the nation's best-known company rating services, Angie's List compiles old-fashioned word-of-mouth reviews," notes a story in the South Florida Sun-Sentinel. The company's co-founder and chief marketing officer, 1995 DePauw University graduate Angie Hicks, tells the newspaper, "We're a glorified word-of-mouth network for consumers. Our service allows you to tap into the experience of thousands of people in your community who are looking for information that helps them make quick decisions and gets their problem handled well. They are all looking for advice from consumers like themselves."
Daniel Vasquez writes, "Hicks founded the company 12 years ago and today it spans [124] major U.S. markets and is growing. Members in established markets like Broward and Miami-Dade counties pay a one-time membership fee of $10 and then $7 monthly or $53 annually to continue it. For this, members get access to a searchable database and a monthly newsletter with local consumer reviews." Angie's List now boasts more than 500,000 members across the nation.

Read the complete article, "Angie's List rates highly as a consumer aid," at the newspaper's Web site.
Learn more about the company and its co-founder, who majored in economics at DePauw, in this previous story.
Back