Newspaper Highlights Musical Career of Jimmy Ibbotson '69
June 8, 2007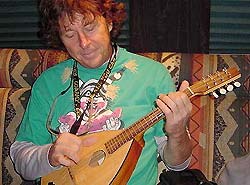 June 8, 2007, Greencastle, Ind. - "Some people are born musicians, and Jimmy Ibbotson, known for his contributions to the Nitty Gritty Dirt Band, leads the pack," begins a feature story on the 1969 DePauw University graduate in the Canyon Courier of Evergreen, Colorado. J.P. McDaniel writes, "'Ibby' has been heard to say that he can play anything and turn anything into a musical instrument. Once, a few years back, fans tossed a cardboard box on stage at Swallow Hill and challenged him to play it. He passed with flying colors, turning the packing box into a wonderful drum that held out through several songs and carried the beat over the outrageous clapping of fans."
The story previews a recent performance by Ibbotson, who joined the Nitty Gritty Dirt Band after leaving DePauw. "Originally from Indiana and truly the 'son of a preacher man,' at the young age of 20, a shy and nervous Ibby went to California hoping to catch a lucky break in the music industry," reports McDaniel. "The band's success soared after Ibby came on board and has remained steady for the past four decades, with approximately 30 albums. Their influence can be seen in other greats, such as the Eagles, Emmylou Harris, Linda Ronstadt, John Denver and others."
The text continues, "Playing guitar, keyboards, drums, accordion (and an occasional cardboard box), plus adding his
distinguished voice, Ibby helped the band gain national and international recognition. Like Ibby, the band has a unique style, blending bluegrass, country, folk and soft rock, resulting in an impressive string of top hits and awards, including a Grammy. Songs such as Dance Little Jean, Fishin' in the Dark, Ripplin' Water, and Mr. Bojangles have become American music icons, with Ibby's strong thumbprint upon them."
Read the article in its entirety at the newspaper's Web site.
Learn more about Jim Ibbotson, who majored in economics at DePauw, in this previous story.
Back