Survey Finds 'Uncommon Success' Begins Early for DePauw Graduates
June 10, 2007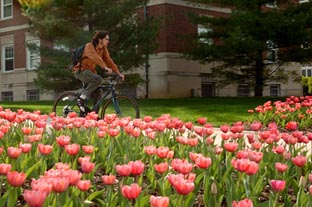 June 10, 2007, Greencastle, Ind. - A survey of 2006 graduates of DePauw University indicates that almost 98% of them are either employed or seeking graduate degrees a year after receiving their undergraduate diplomas. "Twenty-nine percent of our 2006 graduates responded, and the findings affirm something we know to be true -- that DePauw prepares its graduates for success in life," says Tom Cath '76, director of career services. "It also suggests that our students hit the ground running and leave this place with a firm idea of what they'd like to do next."
Of the Class of 2006, the survey revealed that of those responding:
64.2% were working full-time
7.3% part-time
26.7% were full-time graduate students
4.8% were part-time graduate students
Only 2.4% were seeking paid employment
Other findings:
Approximately 36% of those working were employed by an organization or company for whom they previously worked or interned (during a semester, summer or Winter Term).
75% of the survey respondents indicated that they had completed at least one internship while at DePauw.
"Networking and personal contacts" was by far the most successful job search strategy; approximately 80% of the respondents indicated that was their most productive job search strategy.
39.8% of those employed full-time were earning between $30,000 and $40,000 a year, and 13.6% were making over $50,000/year.
"As far as hiring trends our concerned, virtually all employers are seeking entry-level employees who possess outstanding
interpersonal skills, strong verbal and written communication abilities, and persons who are creative and have the ability to solve problems," Cath notes. "Employers also seek workers who learn quickly and adapt to change, work well as part of a group or team, and display initiative and strong analytical skills."
DePauw's Career Center finds that, increasingly, employers prefer to "try out" prospective employees before hiring them full-time. This is usually accomplished through internships, summer jobs or other part-time employment.
Cath states that the job market for recent college graduates is the strongest it has been since 2000.
Students and potential employers are encouraged to contact Tom Cath by sending an e-mail or calling (765) 658-4279.
Back