Prof. Jeff McCall Discusses His New Book with 1976 Classmate Dick Johnson on Chicago's NBC5
June 4, 2007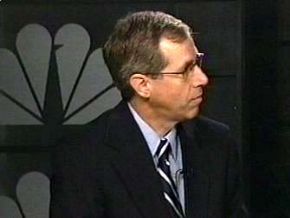 June 4, 2007, Greencastle, Ind. -

[Download Video: "Prof. Jeff McCall '76 on NBC5" - 1604kb] "A society defines itself by the stories it tells, and television is the biggest cultural footprint on our society today," Jeffrey M. McCall, professor of communication at DePauw University, told Chicago's NBC5/WMAQ-TV this morning. "And when television is filled up so much in prime time with sex, violence, gross humor, inconsiderate remarks -- the question is, is that the kind of society we want to have, and as citizens should we be speaking out to say we want a better kind of cultural footprint from our television."
Dr. McCall discussed his new book, Viewer Discretion Advised: Taking Control of Mass Media Influences, with Dick Johnson, the station's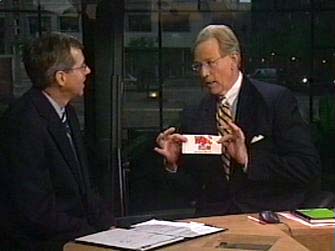 morning news co-anchor. Johnson and McCall are both 1976 graduates of DePauw, and discussed on-the-air this morning the fact that they were also fellow staffers at student radio station WGRE.

[Download Video: "The WGRE Connection" - 1328kb] "He did sports, I did news," Johnson stated as the segment began, hoisting a WGRE bumper sticker for the camera's view.
Johnson noted with some disdain that news outlets, including his own, were reporting on Paris Hilton's weekend activities. McCall stated,

[Download Video: "Setting the Agenda" - 1736kb] "News is the conversation of democracy, and I challenge in my book for the broadcast news industry to set an agenda for us of issues that are more relevant. You know, some celebrity news, some 'cop shop' news in moderation we all need and maybe enjoy and are interested in, but I think that in many regards the TV news industry is taking that out of balance."
The professor -- who has been interviewed and quoted by over 75 newspapers -- cited national surveys that found 30% of all stories on local TV news program involve police matters such as traffic accidents and crimes, while education segments constitute only 2% of what is broadcast.
"The news agenda is too important for us as a society," Dr. McCall says.

[Download Video: "Trivializing Society" - 430kb] "We make our decisions on how to behave, what our social issues are, and that sort of thing based on what we see on the news. And if what we see on the news all the time is cop shop stuff or celebrity stuff, it trivializes our society."
"You are speaking out in a big way in this book," Johnson told McCall as the segment ended. "You don't mince words."
Last month, Jeff McCall appeared live on Champaign, Illinois CBS affiliate WCIA-TV's morning news program.
Learn more about Viewer Discretion Advised in this previous story.
Source: NBC5/WMAQ-TV (Chicago)
Back