A Record 15 May Graduates Agree to Teach For America
June 14, 2007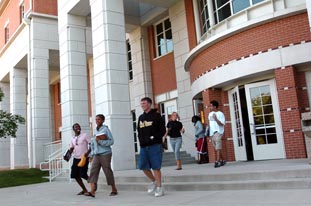 June 14, 2007, Greencastle, Ind. - Nineteen members of DePauw University's Class of 2007 have been invited to participate in Teach For America (TFA) and 15 have accepted the invitation. With about 3% of its graduating seniors entering TFA, DePauw is among the nation's strongest contributors to the program. The 15 commitments is a new record high, exceeding last year's total by one.
Teach For America is the national corps of outstanding recent college graduates of all academic majors who commit two years to teach in urban and rural public schools and become lifelong leaders in ensuring educational equity and excellence for all children. Its mission is to build the movement to eliminate educational inequity by enlisting the nation's most promising future leaders in the effort.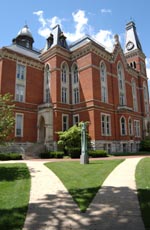 "It was another great year at DePauw for Teach For America, and we continue to find stronger applications at DePauw than across the country as measured by acceptance rate: 34% at DePauw, 18% nationally," states TFA's Jack Carey. "I look forward to continuing our strong relationship in the coming academic year."
A record 56 DePauw students applied for TFA. Nineteen were accepted for the program, and fifteen have agreed to join. Three of the successful DePauw TFA applicants were offered deferrals for the 2008 corps.
The members of DePauw's 2007 graduating class who will Teach For America are (names are followed by the cities/states to which they've been assigned):
Karen Babbs - Phoenix, AZ
Caitlin McGonigal - Philadelphia, PA
Clinton Hasenour - St. Louis, MO
Janine Crantz - Rio Grande Valley, TX
Bess Evans - South Louisiana (deferral for 1 year)
Joshua Enneking - St. Louis, MO
Sarah Storti - Houston, TX
Zach Marquand - North Carolina
Emily Mason - St. Louis, MO
Greg LaPosa - St. Louis, MO
Ashley Amodeo - Chicago, IL
Isabel Campos - Denver, CO
Paddy McShane - Los Angeles, CA (deferral for 1 year)
Laura Stevens - New York, NY (deferral for 1 year)
Amanda Stoermer - St. Louis, MO

The University's participation level in Teach For America has increased significantly over the last four years:
2006: 50 applicants, 15 accepted, 14 joined
2005: 38 applicants, 14 accepted, 13 joined
2004: 36 applicants, 12 accepted, 4 joined
2003: 28 applicants, 9 accepted, 8 joined
Beginning next month, DePauw's liaison with TFA will be Lee Anne McElvey, a 2005 graduate of the University and who served in the corps in Eastern North Carolina corps member following graduation.
On May 26, 2006, Inside Higher Ed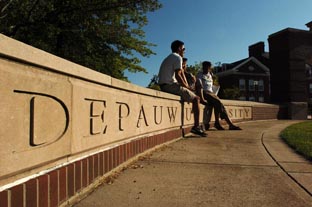 featured three 2006 DePauw graduates who opted to Teach For America in a story headlined, The Hot Choice, Post-College."
Since 1990, approximately 17,000 exceptional individuals have joined Teach For America. They have directly impacted the lives of 2.5 million students and form a growing force of civic leaders committed to ensuring that our nation lives up to its ideal of opportunity for all. Learn more about TFA -- a public-private partnership and the nation's largest provider of teachers for low-income communities -- by clicking here.
Back