Dan Quayle '69 Discusses Role of VP with Congressional Quarterly
June 17, 2007
June 17, 2007, Greencastle, Ind. - "It's what the president wants," America's 44th Vice President, Dan Quayle, tells Congressional Quarterly. "You're there; you're No. 2, and you know you're No. 2; and you know you're there to advance the president's agenda." A 1969 graduate of DePauw University, Quayle is quoted in a story that examines the role of the vice president and whether the current VP, Dick Cheney, has changed the nature of the office.
David Nather writes, "Quayle, now chairman of Cerberus Global Investments, LLC, doesn't think that dynamic has changed even under Cheney. But even those who see Cheney's tenure as a redefining moment for the vice presidency don't think there is a lot that anyone, other than the president, can do to alter the balance of power. If the president wants to make the vice president his chief foreign policy adviser and allow him to question intelligence agencies on their work, there is little Congress can do to stop that from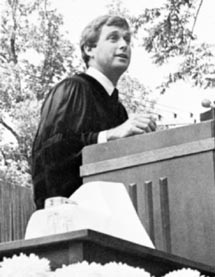 happening. It can't place limits on the work the vice president does, lawmakers say, as long as nothing illegal is going on."
Read the complete text by clicking here. (at right: Quayle addressing graduates at DePauw's 1982 commencement ceremony)
Dan Quayle's role in Cerberus' move to buy Chrysler Corporation last month was noted in the Indianapolis Star, among other publications.
Details can be found in this previous story.
Back