1996 Ubben Lecturer Shimon Peres Elected President of Israel
June 13, 2007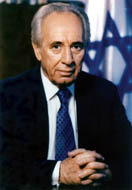 June 13, 2007, Greencastle, Ind. - Shimon Peres, who delivered the Timothy and Sharon Ubben Lecture at DePauw University in 1996, was today elected the ninth president of Israel. "Peres, a Nobel Peace Prize winner of the ruling Kadima Party, won the support of 86 of parliament's 120 members in a second round of voting in which he stood alone, parliament speaker Dalia Itzik said," reports the Associated Press. "His two rivals, Reuven Rivlin of the hawkish Likud and Colette Avital of the centrist Labor, withdrew from the race after he seized a commanding lead in the first round."
Peres, who has held all of Israel's top civilian posts, will be sworn into office on July 15, for a seven-year term. Read more on today's vote by clicking here.
Peres, who is now 83, came to DePauw on November 11, 1996 to discuss "Battling for Peace: The New Middle East." A short video clip from that address can be accessed here:

[Download Video: "View Video Clip of Shimon Peres' Ubben Lecture" - 558kb]. A story previewing the former prime minister's Ubben Lecture can be accessed by clicking here.
Established in 1986 through the generous support of 1958 DePauw graduates Timothy H. and Sharon Williams Ubben, the Ubben Lecture Series' recent visitors have included Starbucks USA President and 1983 DePauw University graduate Jim Alling; For One More Day author Mitch Albom; and biologist E.O. Wilson.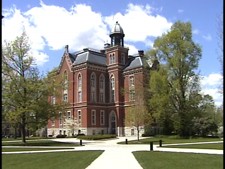 Other past Ubben Lecturers have included: Mikhail Gorbachev, Peyton Manning, Spike Lee, Barbara Bush, Benazir Bhutto, General Colin Powell, Mike Krzyzewski, Jesse Jackson, L. Paul Bremer, ice cream entrepreneurs Ben & Jerry, Rev. Jesse Jackson, General Wesley Clark, Hotel Rwanda's Paul Rusesabagina, Ross Perot, and Harry Belafonte.
To view a complete list of Ubben Lecturers, which includes links to video clips and news stories, click here.
Back