Klansmen Were Terrorists, Prof. John Dittmer Tells Mississippi Newspaper
June 16, 2007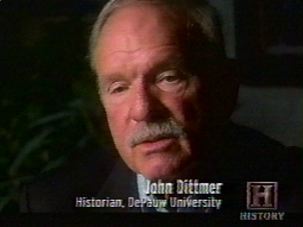 June 16, 2007, Greencastle, Ind. - "In the 1960s, no one called the Klansmen terrorists, but that's what they were, said John Dittmer, author of Local People: The Struggle for Civil Rights in Mississippi," notes a story in the Clarion-Ledger of Jackson, Mississippi. Dittmer, professor emeritus of history at DePauw University, tells the newspaper that members of the Klan are "like the Taliban or suicide bombers. God is telling them to kill these people. It's just really scary."
The article by Jerry Mitchell continues, "Some Klansmen followed the precepts of Christian Identity, a radical anti-Semitic offshoot of Christianity that teaches whites are the true Israelites, blacks are soulless animals and Jews are descendants of Satan. These Klansmen believed they were doing God's will in killing others, Dittmer said. 'They saw themselves as avenging angels.'"
Read the complete story, headlined "Klansmen and civil rights workers used Bible to back causes," at the Clarion-Ledger's Web site.
The New York Times' Adam Nossiter wrote that Dr. Dittmer's Local People is "what many people consider the definitive chronicle of the Mississippi civil rights movement."
John Dittmer received a 2006 Indiana Humanities Award for his work in helping to advance and strengthen American culture. The recent television documentary 10 Days That Unexpectedly Changed America: Freedom Summer, which aired on the History Channel, included analysis from Professor Dittmer.
Source: Jackson (Miss.) Clarion-Ledger
Back