Anchor Role of Rob Johnson '90 Expands at Chicago's CBS 2
June 13, 2007
June 13, 2007, Greencastle, Ind. - "Now it is Rob Johnson's turn to try to do what a veritable honor roll of broadcast journalists failed to accomplish over the past decade-plus: hoist WBBM-Ch. 2 out of third place among Chicago's newscasts at 10 p.m., where it trails WLS-Ch. 7 and WMAQ-Ch. 5 by a sizable margin," reports the Chicago Tribune of the 1990 DePauw University graduate. "Johnson, who jumped from top-rated Channel 7 to Channel 2 last year," took over this week as co-anchor of CBS owned-and-operated WBBM's 10 p.m. newscast, adding those duties to his role as 5 p.m. co-anchor.
"I realize there are a lot of people before me, people who were great anchors and great journalists, who have maybe not moved the needle, so to speak, but I feel like Joe [Ahern, WBBM's boss] and Carol [Fowler, its news chief] are committed to giving us the tools we need to be successful," Johnson tells the Tribune. He takes over from Antonio Mora, who previously
worked on ABC's Good Morning America.
Phil Rosenthal writes that WBBM's ratings have been sluggish for more than a decade. "One problem is that although CBS has regained first place in prime time nationally in recent TV seasons, it hasn't fared nearly as well in Chicago, where ABC-owned Channel 7 has been a force to be reckoned with around the clock, at least in part because it has been Oprah Winfrey's TV home since, well, the mid-1980s," states the columnist.
Johnson, an Emmy Award-winning journalist who majored in communication at DePauw, tells the newspaper, "It's a very habit-driven place, and, perhaps, the highest-rated newscast is not always the quote-unquote best newscast," Johnson said. "Certainly, when you're not dealing from a position of power, you come to understand that. But hopefully we'll be OK. ... We have a darn good show at 5 o'clock right now. Now we need to let everybody know that, hey, I'm on at 10, and hope the folks of Chicago will give us a shot to see what we're all about."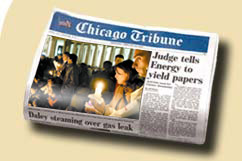 "Rob has demonstrated strong leadership in the newsroom for the past year," says Ahern, the station's president and general manager. "His strengths as a reporter and anchor are abundantly clear, making him the right choice for the future.
Read the complete text at the Tribune's Web site, and find another story at the Chicago Sun-Times.
Learn more about Rob Johnson in this previous story.
Back