Preston named field hockey coach
June 15, 2007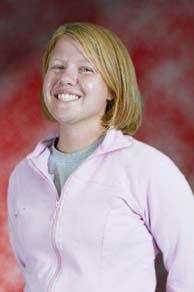 June 15, 2007 Greencastle, Ind. - Gina Preston, assistant field hockey coach at Washington & Jefferson College has been named DePauw's head field hockey coach. Preston replaces Carla Lane who announced her resignation in February after serving as the Tigers' head coach the last seven years.
A 2004 Centre College graduate, Preston earned a bachelor of arts degree in English. She then served as an assistant at Earlham College for two years prior to going to Washington & Jefferson for the 2006 campaign.
The Louisville, Ky., native was a second team all-region player at Centre while serving as a co-captain. She also was named to the Kentucky Indiana Tennessee (KIT) all-conference and all-tournament teams.
"We're excited to have Gina join the DePauw athletic team," DePauw director of athletics Page Cotton said.
"From her playing days at Centre, she brings familiarity with the SCAC (Southern Collegiate Athletic Conference) schools."
The Tigers were 12-7 in 2006 and open the 2007 season on August 31 at Kenyon College.
Back