Ken Owen '82 Discusses DePauw's Use of Rich Media in University Business
June 24, 2007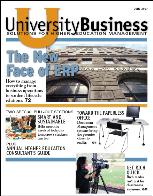 June 24, 2007, Greencastle, Ind. - "Rich media can also boost an institution of higher education's visibility beyond potential and current students, as DePauw University (Ind.) is demonstrating," notes the current (June 2007) issue of University Business. "As tools for rich media became more robust, the university's director of media relations, Ken Owen, felt that snippets of streaming videos of visiting lecturers would make for ideal sound bites for the media," reports the magazine in an article headlined, "Institutions Expand Rich Media Efforts."
"Having spent 18 years in television news, Owen had the journalistic instinct to know what material made for good radio and TV broadcasts, but until just a few years ago he didn't have the rich media applications that could make lectures available quickly."

The text describes how Owen, a 1982 graduate of DePauw, incorporates video and audio clips into news stories for the University's Web site. Recent examples include coverage of Alumni Reunion Weekend, Professor Jeff McCall's appearance on Chicago's NBC5, and May's 168th annual commencement. Video clips have also accompanied stories on major events such as Ubben Lectures by Mikhail Gorbachev, Peyton Manning and Paul Bremer, among others. There are also 60 "Monon Memories" of past battles for the Monon Bell. (below: Owen greeting Ambassador Bremer at DePauw, 9/16/2004)
The article also describes how the use of rich media can be key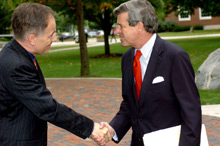 when a college or university is trying to disseminate breaking news. Audio clips posted on DePauw's site are available for the media's use, and have been utlilized by radio stations and broadcast networks.
Read the complete feature at the magazine's Web site.
Learn more about Ken Owen in this previous story.
Source: University Business
Back