Peeler Pottery Event at Putnam County Museum Saturday
June 22, 2007
June 22, 2007, Greencastle, Ind. - "The Putnam County Museum invites people who have collected Peeler pottery over the years to bring in examples to share with the community," notes the Terre Haute Tribune-Star in previewing a Saturday event. A 1949 graduate of DePauw, Richard E. Peeler was a member of the University's faculty for fourteen years and the Art Center is named in his honor. Tomorrow, from 1 to 3 p.m., "collectors can bring in Peeler pots, bowls, plates, sculptures, birdhouses, and more to be photographed. The museum also will accept photographs of collections ... These photographs will be displayed as part of the 'Richard & Marj Peeler: A Retrospective' exhibit through Sept. 29."
"This might be the first step in producing a photographic collection of Peeler works," Warren Macy, museum vice president and organizer of the event, tells the newspaper.
"The current exhibit shows Peeler work from Marj Peeler's personal collection and a few pieces from DePauw University galleries," adds museum director Stacy Klingler. "We had so many visitors describing what Peeler pottery they have at home that we wanted to give them an opportunity to share."
Scott Cooper, a potter and former Web director for DePauw, will be on hand to take photographs tomorrow, and another session will take place later this summer. The Tribune-Star points out, "The exhibit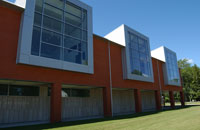 was made possible with the support of DePauw University and the art department."
Read more at the newspaper's Web site or in this previous storyon the exhibit.
The Putnam County Museum is located at 1105 N. Jackson Street in Greencastle. For more information, call the museum at (765) 653-8419 or send an e-mail to museum@co.putnam.in.us.
Back