Lee Hamilton '52 "Receptive" to Reviving Iraq Study Group
June 23, 2007
June 23, 2007, Greencastle, Ind. - "The Iraq Study Group, the bipartisan panel that mapped out an alternative U.S. strategy for Iraq last December, may be reconstituted for a sequel," reports the Washington Post. The panel was co-chaired by Lee Hamilton, a former Democratic congressman and 1952 graduate of DePauw University, and James A. Baker III, a Republican and former secretary of state. The House has voted 355 to 69 "to revive the 10-member panel ... to again review U.S. policy and offer new recommendations."
"I'm receptive to reconstituting the group, but I can only speak for myself as I don't know feelings of the group and Baker is traveling," Hamilton tells the Post. "If Congress thinks we can be constructive, then I think we should do it."
"Last fall, the Iraq Study Group provided Congress a thoughtful assessment on one of the most important issues of our time," Rep. Christopher Shays (R-Conn.), says. "As we approach another crossroad in this
conflict, having that thoughtful insight again will be invaluable."
"Several of the Iraq Study Group's recommendations, initially rejected by the Bush administration, have since been adopted," ," reports Robin Wright. "Among the three key proposals, the panel of five prominent Republicans and five Democrats urged diplomatic outreach to Iran and Syria in order to broaden regional cooperation in stabilizing Iraq. Last month, U.S. and Iranian diplomats had their first public bilateral meeting in almost three decades. The panel also urged that benchmarks of progress for the Iraqi government be defined and that U.S. aid and military support be made conditional on performance. Pressing the government of Iraqi Prime Minister Nouri al-Maliki to meet political benchmarks is now a central aspect of administration strategy. The panel also said the primary U.S. military function should increasingly shift to training the new Iraqi military."
Hamilton tells the Post, "In many ways the administration is coming our way. I don't look at it as vindication but as part of the policy process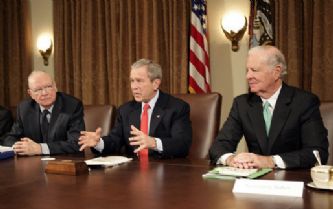 in trying to find a solution to a very difficult problem."
Read the complete text at the newspaper's Web site.
Last month, General Colin Powell presented Lee Hamilton with the Eisenhower Medal for exceptional leadership.
Hamilton, who discussed his DePauw experience in a recent interview, is a frequent visitor to the Greencastle campus, and in October 2006 discussed the Iraq war and other matters at DePauw Discourse 2006: Issues for America. Access a story -- including video and audio clips -- here.
Back