Liz Bondi '07 Receives Honda Award in NYC
June 26, 2007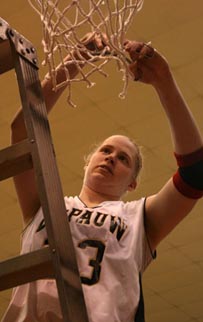 June 26, 2007, Greencastle, Ind. - Newspapers across the nation and in Canada today carry a story that reports DePauw's Liz Bondi received the Honda Award as the Division III Collegiate Woman Athlete of the Year yesterday in New York City. The Associated Press' Melissa Murphy writes, "Bondi, of Park Ridge, Ill., is the Division III singles tennis champion and led the basketball team to the national title. She finished 31-2 in singles and 25-3 in doubles, and earned most outstanding player honors at the championship basketball tournament." Bondi graduated from DePauw last month.
The article can be found in the Chicago Tribune, Miami Herald, Toronto Star, Forbes, Fort Wayne News-Sentinel and Houston Chronicle, among others. A video featuring Bondi and the other honorees is posted at YouTube.
"It's an incredible honor to be selected as the Division III Athlete of the Year," Bondi said June 15, when she learned she would be receiving the award. "I was fortunate to win an individual national tennis championship and also be part of a basketball team which won our school's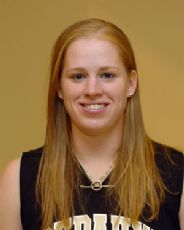 first national team tile. Without my coaches, Scott Riggle and Kris Huffman, I couldn't have reached these levels and certainly couldn't have won this award."
The AP notes her dominant records on the tennis court, adding, "In basketball, she led DePauw to a 31-3 record, averaging a team-high 15.7 points and 5.9 rebounds a game."
Related stories include a June 15 Indianapolis Star article and a piece which includes video highlights of the women's basketball team's national championship game.
For comprehensive information on Tiger sports, visit the DePauw athletics page.
Back