Lee Hamilton '52 to Debate John Bolton in Oregon, November 7
June 28, 2007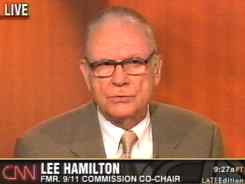 June 28, 2007, Greencastle, Ind. - "John Bolton and Lee Hamilton will debate foreign policy at 8 p.m., Wednesday, Nov. 7, during Pacific University's annual Tom McCall Forum at Arlene Schnitzer Concert Hall in Portland," reports Oregon's Hillsboro Argus. Hamilton -- a former U.S. congressman, co-chair of the Iraq Study Group, and 1952 graduate of DePauw University -- will discuss "U.S. Foreign Policy Post '08" with Bolton, former U.S. ambassador to the United Nations. Now in its 25th year, the McCall Forum has a "tradition of staging liberal vs. conservative debates," adds the newspaper.
"Hamilton is president and director of the Woodrow Wilson International Center for Scholars, where scholars, policy makers and business leaders engage in nonpartisan dialogue on public policy issues," notes the article. "Before that, Hamilton served for 34 years as a United States congressman from Indiana. During his tenure, Hamilton was chairman and ranking member of the House Committee on Foreign Affairs (now the Committee on International Relations), and chaired the subcommittee on Europe and the Middle East for 20 years." He also served as vice chair of the 9/11 Commission. (at right: Hamilton with DePauw student journalists)
A Democrat who served 34 years in Congress and has been praised for his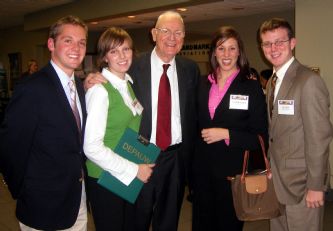 bipartisanhip and pragmatism by the New York Times and Chicago Tribune, among other publications, Hamilton discussed his DePauw experience in a recent interview.
Previous debaters in the McCall Forum series have included America's 44th Vice President Dan Quayle, a 1969 graduate of DePauw.
Read more at the newspaper's Web site.
Last week, the U.S. House of Representatives voted to revive the Iraq Study Group, which Hamilton co-chaired with former secretary of state James A. Baker III. Learn more in this previous story.
Back