Balanced Media Landscape Doesn't Need Fairness Doctrine, Says Prof. Jeff McCall '76
July 4, 2007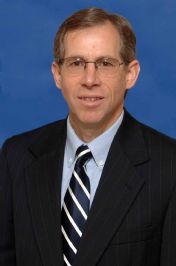 July 4, 2007, Greencastle, Ind. - "There are more media outlets for expressing opinions than ever before," Jeffrey M. McCall, professor of communication at DePauw University, tells California's North County Times. McCall tells the newspaper there is no need to restore the Fairness Doctrine. For years, the doctrine required broadcasters to devote equal amounts of airtime to examining both sides of controversial issues. It was repealed during the Reagan administration.
"While the AM radio world is, indeed, imbalanced in favor of more conservative talkers, there are plenty of voices from the left in the print world, television, the Internet, and so forth," asserts Dr. McCall. "In the overall media market, plenty of voices are heard and general balance exists."
The article by Randy Dotinga also pulls a quote from McCall's book, Viewer Discretion Advised: Taking Control of Mass Media Influences. "The doctrine ultimately failed to accomplish its goal of fairness in that it chilled the atmosphere for public discussion, and most broadcasters refrained from engaging controversial issues at all for fear of lawsuits and possible FCC meddling," McCall writes. "Instead of providing any fairness in public dialogue, the doctrine served to diminish discussion of public controversies altogether."
Dotinga writes, "The Fairness Doctrine disappeared in 1987,
although there are still some rules requiring balance on the airwaves. (Terrestrial television and radio stations must give equal time to candidates in certain situations. That's why dozens of Law & Order reruns may go on the shelf or get edited if Fred Thompson, a former actor on the series, decides to run for president.) Conservative talk radio began to develop in earnest after the Fairness Doctrine vanished, and Rush Limbaugh was huge (ahem) within about five years."
Read the complete article at the newspaper's Web site.
Jeff McCall recently discussed the responsibility of newspaper editors to monitor reader's comments that are posted online in the Torrance Daily Breeze. He also wrote an op-ed on the broadcast industry's recent "bad and bizarre behavior" which was published in the Indianapolis Star. On June 4, Jeff McCall discussed his new book with WMAQ news anchor Dick Johnson on the NBC Chicago's morning news program, and in May appeared live on Champaign, Illinois CBS affiliate WCIA-TV.
Source: North County (Cal.) Times
Back