Seven from DePauw Contribute to New Book on Technology and Education
July 9, 2007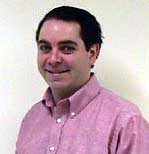 July 9, 2007, Greencastle, Ind. - Dave Berque, professor and chair of computer science at DePauw University, is co-editor of The Impact of Tablet PCs and Pen-based Technology on Education 2007: Beyond the Tipping Point. The book, new from Purdue University Press, includes two chapters which are authored by DePauw faculty and students.
Dr. Berque and Terri Bonebright, associate professor and chair of psychology, team with DePauw students Joel Dart '07, Zachary Koch '09, and Shawn O'Banion '07 on the chapter, "Using DyKnow Software to Support Group Work: A Mixed-Method Evaluation."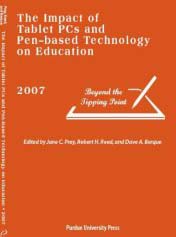 Three professors of economics at the University -- Mary P. Dixon, Kerry Pannell, and Michele T. Villinski -- authored another chapter, "Can Pen-Based Computing Enhance Graph Construction and Comprehension in the Introductory Economics Classroom?"
A description of the book, which is co-edited by Jane Prey and Robert Reed, states: "A wide variety of disciplines are embracing Tablet PCs and similar pen-based devices as tools for the radical enhancement of teaching and learning. Deployments of Tablet PCs have spanned the K-12, undergraduate, and graduate levels and have dealt with an amazingly diverse range of subject areas. This work is aimed at identifying best practices in the educational use of pen-based computing so that all educators may benefit from
this next generation of technology."
Learn more, and order the text, at Amazon.com.
Dave Berque's work at DePauw led to the development of pen-based technology that is now being used in classrooms around the country. In May, he received the 2007 Mira Techpoint Award for "Education Contribution in Technology - Individual." See a video featuring Dr. Berque here:

[Download Video: "Dave Berque - Professor of the Year" - 7427kb].
Back