Pat Aikman '57 Retiring as Director of Indiana HS All-Star Games
July 10, 2007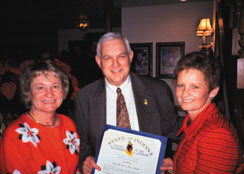 July 10, 2007, Greencastle, Ind. - "Patrick Aikman is retiring as game director of the Indianapolis Star Indiana All-Stars after 20 years in the position," reports today's Star of the 1957 DePauw graduate. "A former public relations director for DePauw University, Aikman oversaw the All-Star program as part of his full-time duties with the newspaper from 1988-2000. After retiring as a full-time employee, Aikman continued as the All-Star game director through this year as an independent contractor."
The "High School Notebook" column adds, "Aikman will continue to work with the All-Stars by serving as a consultant to the next game director."
The series pits the boy's and girl's high school basketball all-stars from Indiana against their counterparts from Kentucky in games. Since 1940, the contests -- which are played each summer -- have raised more than $2.7 million for nonprofit organizations in Central Indiana.
Access the item at the newspaper's Web site.
In 2002, Pat Aikman was honored as a "Sagamore of the Wabash" (seen in top photo). Details can be found in this previous story.
Back