NY's Independent Features Film Festival to Screen Shades of Grace
July 13, 2007
July 13, 2007, Greencastle, Ind. - Add the Independent Features Film Festival in New York to the list of venues screening Shades of Grace, by 2007 DePauw University graduates Bryan Dobrik and Luis Davila. The festival will take place July 27-29, 2007 at the acclaimed Tribeca Cinemas in Lower Manhattan.
Shades of Grace is one of 21 films selected for the event by a global audience via a Web-based competition. It will be screened on Saturday, July 28, at 4:30 p.m. at Tribeca Cinemas Theater 1.
The film was recently honored as "Best Crime Drama -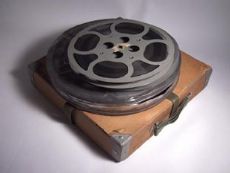 Short Film" by the Indie Gathering. The 2007 festival , which features a national competition for independent films and filmmakers, will take place August 3-5 in Cleveland, Ohio. It will also be shown July 15 during the Long Island International Film Expo, and was also accepted by the Twin Rivers Media Festival (Asheville, North Carolina).
Read more about Shades of Grace in this previous article. For information and to order a copy of the film contact Bryan Dobrik via e-mail.
Back