Stephen F. Hayes '93 Authors Cheney: The Untold Story of America's Most Powerful and Controversial Vice President
July 24, 2007
July 24, 2007, Greencastle, Ind. - Cheney: The Untold Story of America's Most Powerful and Controversial Vice President by Stephen F. Hayes, senior writer at the Weekly Standard and 1993 graduate of DePauw University, arrives in bookstores across America today. Published by HarperCollins, Hayes' book "offers readers a groundbreaking view into the world of this most enigmatic man," according to a synopsis of the title. "Having had exclusive access to Cheney himself, Hayes draws upon hundreds of interviews with the vice president, his boyhood friends, political mentors, family members, reticent staffers, and senior Bush administration officials, to deliver a comprehensive portrait of one of the most important political figures in modern times."
Publishers Weekly writes, "Hayes covers this material engagingly and efficiently ... [The] author of a previous book on the connection between al Qaeda and Saddam Hussein, Hayes approaches Cheney sympathetically, countering more critical accounts in the popular press for example, he laments the way Ambassador Joseph Wilson's flawed storyline regarding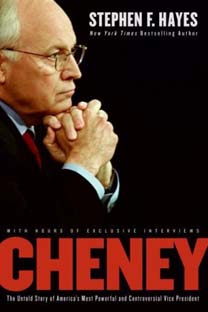 forged evidence that Iraq had attempted to acquire uranium from Niger hardened into conventional wisdom. The book may not convince detractors, but it sketches a vivid portrait of Cheney as an intelligent, quiet leader committed throughout his career, even as a member of Congress, to strengthening the power and authority of the executive branch."
Read more, and order the text, at Amazon.com and Barnes & Noble.com.
Stephen Hayes, author of the New York Times bestseller, The Connection: How al Qaeda's Collaboration with Saddam Hussein Has Endangered America, majored in political science at DePauw. He has been a commentator on many television and radio broadcasts, including Today, Meet the Press, the Diane Rehm Show, FOX News Sunday, the O'Reilly Factor, and CNN's Late Edition. His writing has appeared in the Los Angeles Times, Philadelphia Inquirer, Wall Street Journal, National Review, and New York Post.
Read more about Hayes in this previous story.
Back