Former President, Bishop Bromley Oxnam, Featured in TIME
June 26, 1944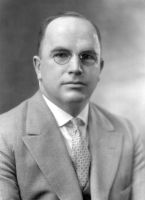 June 26, 1944, Greencastle, Ind. - Bishop G. Bromley Oxnam, the former president of DePauw University, "was popular with students (because he permitted dancing), unpopular with the American Legion (because he abolished the R.O.T.C.)," notes TIME magazine in a profile headlined, "Social-Minded Bishop." He left DePauw in 1936 and later "became Bishop of Methodism's most important area -- New York," adds the magazine.
"Very friendly, very businesslike, he speaks in the pulpit with machine-gun rapidity, pounds his palm with his clenched fist to stress his points," TIME writes. "His preaching and lecturing have taken him as much as 30,000 miles a year, most of which he covered by plane."
The piece adds, "Bishop Oxnam has repeatedly cautioned Methodists against the dangers of developing 'an anti-labor attitude in the minds of our soldiers and sailors, since our very future lies in the ability of management and labor to work together.' He has told groups of businessmen that 'business tomorrow will not be as usual,' has urged them 'to remove the contradiction that lies in our ability to produce and our inability to distribute in a moral or rationally adequate way [and] to remove the barriers that economic nationalism places between us and an unimpeded world market.' More recently the
Bishop has fought against Boston's rampant anti-Semitism (TIME, Nov. 1), calling it 'not only a threat to Jewish liberty, but to Protestant liberty, and Catholic liberty, too.' He even persuaded the late William Cardinal O'Connell to join with him in condemning antiSemitism. It was the first time the 84-year-old Boston Cardinal ever signed such a statement with a Protestant."
Read the complete story at TIME.com.
Learn more about the presidents of DePauw University by clicking here.
Back