Prof. Pedar Foss Publishes "Landmark" Book, The World of Pompeii
July 11, 2007
July 11, 2007, Greencastle, Ind. - Pedar W. Foss, associate professor of classical studies at DePauw University, is co-editor of The World of Pompeii. Just published by Routledge, the book contains 39 chapters contributed by 40 international scholars, 234 illustrations and 4 maps, and a CD-ROM with detailed digital versions of the plans of Pompeii, Herculaneum and the map of the Bay of Naples, in multiple formats and at multiple resolutions.
The plans of Herculaneum and Pompeii have all streets and building addresses labeled and tomb addresses marked, and the Pompeii plan has georeferencing information that will permit its insertion into a geographic information system (GIS).
"This is a landmark publication in the study of the Campanian cities buried in the A.D. 79 eruption of Vesuvius; it is a book we have long been waiting for," states David Mattingly, professor of Roman archaeology at the University of Leicester.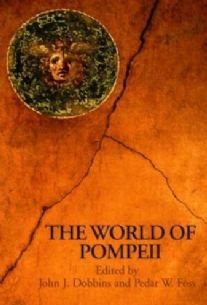 "With 39 chapters, written by a 'Who's Who' of Pompeian experts, it will soon establish itself as the definitive English-language study of Pompeii and related sites."
Professor Gary Devore of Stanford University and the Pompeii Archaeological Research Project: Porta Stabiana declares, "Finally! This is the invaluable resource every Roman archaeologist has been waiting for. In The World of Pompeii, Dobbins and Foss have illustrated not only the tremendous fertility of the material record at these eminent Campanian sites, but also the central role these complex ruins play in our understanding of the entire Roman world."
Learn more, and order the book, at the publisher's Web site. Also available is a companion Web site.
Read about Dr. Foss and DePauw's Mediterranean Archaeology Geographic Information System (MAGIS) project in this previous story.
Back