Sentiment to Pull Out of Iraq "Probably Growing," Says Lee Hamilton '52
July 12, 2007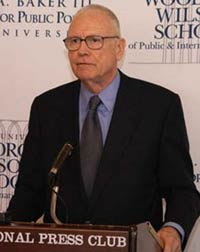 July 12, 2007, Greencastle, Ind. - "I don't think it's too late, but there are certainly those who say this situation is certainly beyond repair and we had better just get out," Lee H. Hamilton tells Reuters of the situation in Iraq. "That opinion is probably growing, but I don't think it's a majority opinion," adds the former congressman and 1952 graduate of DePauw University.
Steve Holland writes, "The key to forcing Bush to accept a shift in strategy probably lies with his fellow Republicans, and whether the wavelet of defectors becomes a tsunami. So far a small group of influential Senate Republicans -- including Richard Lugar of Indiana, Pete Domenici of New Mexico and George Voinovich of Ohio -- have bolted. Others are grousing, working on bipartisan approaches that try to bring Bush back to last December's Iraq Study Group report that said all U.S. combat troops could be out of Iraq by March 2008. Lee Hamilton, a co-author of the Iraq Study Group report, thinks that is still a good idea."
The complete article is accessible here.
Last month, the U.S. House of Representatives voted to revive the Iraq Study Group, which Lee Hamilton co-chaired with former secretary of state James A. Baker III Learn more in this previous story.
Numerous other stories about Hamilton are available at this site, including profiles in the New York Times and Chicago Tribune, among other publications.
Back