NY Times Story on Network News & Katie Couric Includes Analysis from Prof. Ken Bode
July 12, 2007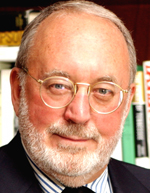 July 12, 2007, Greencastle, Ind. - A story in today's New York Times on the legacies of former network anchors Tom Brokaw, Peter Jennings and Dan Rather, states, "Ken Bode, a journalism professor at DePauw University and former NBC and CNN correspondent, said, 'It is certainly a valid observation that those three anchormen left an imprint on the public' that is proving difficult to erase."
The article by Bill Carter details the struggles of Katie Couric at CBS and, overall, a nightly news viewership that continues to erode. Besides Bode, Eugene S. Pulliam Distinguished Visiting Professor of Journalism at DePauw, the piece also offers analysis from
Tom Rosenstiel, director of the Project for Excellence in Journalism.
Carter writes, "Mr. Bode said that he was a strong supporter of Ms. Couric. 'I love Katie,' he said. 'I think they are undermining Katie's image as a serious journalist,' he added, referring to CBS executives."
Read the complete text, "Now the News: Couric Still Isn't One of the Boys," at the Times' Web site.
Ken Bode, a member of the Indiana Journalism Hall of Fame, writes frequent op-eds for the Indianapolis Star. His most recent contribution can be accessed via this previous story.
Source: New York Times
Back