Weekly Newspaper and Cincinnati's WLW Feature Prof. Jeff McCall's ('76) Viewer Discretion Advised
July 15, 2007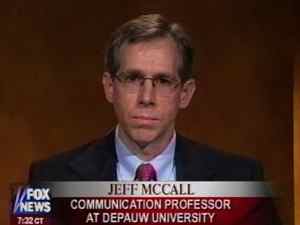 July 15, 2007, Greencastle, Ind. - In Viewer Discretion Advised, DePauw University professor of communication Jeffrey M. McCall "is, indeed, a prophet crying in the wilderness," writes Cynthia Dewes in the Criterion. "That's because his book's argument, as captured in its subtitle, is 'Taking Control of Mass Media Influences.' To which we might well reply, 'Good luck!'"
Dewes, a columnist for the weekly newspaper of the Archdiocese of Indianapolis, notes that in his book, Dr. McCall "discusses the First Amendment to the U.S. Constitution and its ramifications, which he believes are misunderstood by too many citizens. The freedoms mandated by the amendment include speech, the press and religion. But freedom is not license, and some legitimate limits may be put on them ... What passes for news in the media is another important discussion in McCall's book. He writes, 'It has been said that news is the conversation of
democracy. If that is true, our democracy could be headed for trouble.' For example, 'celebrity scandals, bizarre crimes and cute animals' are neither the stuff of news nor of serious conversation."
The columnist adds, "McCall devotes part of the book to how we may influence the media to change their ways." Dewes states, "We can and must make our wishes known by contacting media bosses directly, taking part in participatory media, letting advertisers know what we think, and contacting the government to urge that media literacy be taught in schools."
The publication notes that Professor McCall, a 1976 graduate of DePauw, has "appeared on national television and radio shows commenting upon the media scene, and his expertise is widely acknowledged as going beyond mere personal opinion in these matters."
Read the complete text at the Criterion's Web site.
Jeff McCall recently spent a half-hour discussing Viewer Discretion Advised on Cincinnati's WLW. You can hear the program, which is archived at the radio station's site.
This Tuesday, July 17, from 4:15 to 4:45 (Eastern time),
the professor will be a guest of St. Louis' KMOX-AM. Listen live via this link.
Dr. McCall recently talked about the possible resurrection of the Fairness Doctrine with California's North County Times. He also wrote an op-ed on the broadcast industry's recent "bad and bizarre behavior" which was published in the Indianapolis Star.
On June 4, Jeff McCall discussed his new book with WMAQ news anchor Dick Johnson on the NBC Chicago's morning news program, and in May appeared live on Champaign, Illinois CBS affiliate WCIA-TV.
Back