David Lilienthal '20 to Chair New Atomic Energy Commission
October 28, 1946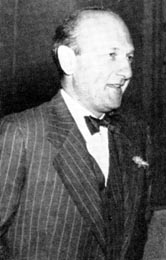 October 28, 1946, Greencastle, Ind. - President Harry S. Truman has appointed David E. Lilienthal, chairman of the Tennessee Valley Authority and 1920 graduate of DePauw University, to serve as chairman of the new Atomic Energy Commission. Other members of the five-member panel are: Robert Fox Bacher, a Cornell physicist who worked on the atomic bomb and is scientific consultant to Bernard M. Baruch on the United Nations Atomic Commission; William W. Waymack, a director of the Chicago Federal Reserve Bank and Pulitzer Prize-winning editor of the Des Moines Register and Tribune; Sumner T. Pike, former insurance executive and member of the Securities Commission; and Rear Admiral Lewis L. Strauss, member of the Army-Navy Munitions Board and a partner in the New York banking firm of Kuhn, Loeb & Co.
Succeeding Lilienthal as chairman of the TVA is Gordon Rufus Clapp.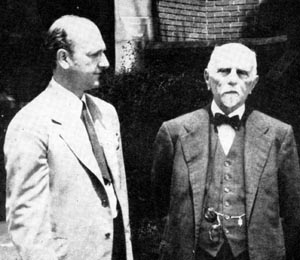 Lilienthal headed a group of experts under State Department auspices which drafted the Acheson-Lilienthal report, on which Baruch's official plan for international control was largely based.
"The new commission will be pioneering in unchartered fields," says Lilienthal. "The consequences of our work, for good or for evil, are awesome. With this poignantly in mind, I shall enter upon these new duties with deep humility." (photo at right shows Lilienthal with his former professor, Dr. H.B. Longden '81, outside of Gobin Church in June 1945)
With the exception of certain powers of the military in the field of weapons, no activities in atomic energy -- from the ore to the final form of energy -- can be carried on without the approval of this commission, thus giving it unprecedented peacetime power.
Lilienthal was appointed to the TVA by President Franklin D. Roosevelt in 1933, and has served as chairman since 1941. His 1944 book, TVA: Democracy on the March, received wide acclaim. The Journal of the National Education Association named
it the most important book of the year.
"If democracy is to be effective and to hold its own against its powerful rivals, it must have action as well as discussion," wrote the journal's editor, Joy Elmer Morgan. "Let anyone who is pessimistic about the future of democracy study this volume and he will acquire new faith in the ability of the people to govrn themselves."
David Lilienthal received his L.L.B. from Harvard University in 1923 and was admitted to the Illinois bar the same year. While a student at DePauw, he played on the varsity football team for two years and was student body president for the same duration. He was also a member of Sigma Delta Chi and Duzer Du.
Back