Iraq Solution "Must be Political," Prof. Ken Bode Declares in Op-Ed
July 14, 2007
July 14, 2007, Greencastle, Ind. - "When Sen. Richard Lugar took the floor of the Senate to describe his misgivings about President Bush's Iraq policy, he must have had some idea what effects it might have," writes Ken Bode in the Indianapolis Star. Bode, Eugene S. Pulliam Distinguished Visiting Professor of Journalism at DePauw University, states that "Lugar's firm call for an immediate change of direction freed a number of other Republican senators who also harbored doubts about the administration's Iraq policy" and put the White House in, as ABC reported, "panic mode."
"In an effort to buy more time, the administration leaked the preliminary results of a report on the progress of the president's Iraq policy," notes the professor. "It claims, predictably, that there has been progress on security (in a week when 40 mortars hit the Green Zone), but continues to blame the Iraqi government for failing to meet the political and governmental benchmarks set for it. That is a point that clearly bothers Lugar. In an interview with PBS' Charlie Rose, he lamented that Iraq has no

functioning bureaucracy, wholesale theft of oil and no reliable banking system, so that on any given day a quarter of the Iraqi army is absent, carrying their paychecks home. It doesn't matter whether the surge is working, Lugar told Rose: 'That's not the solution; the problem is too big.'"
Bode argues, as have others, that "a military solution is not possible. It must be political." He asks, "So, what can we expect [General David] Petraeus to report in September? We got a preview of that recently when David Kilkullen, an advisor to Petraeus, issued a report titled 'Understanding Current Operations in Iraq.' Kilkullen argues that the surge is really just beginning. We are just coming out of our defensive crouch, starting to put things onto a viable long-term footing, and it is starting to pay off. Petraeus wrote the new Army manual on counterinsurgency and then was sent to Iraq to implement his ideas. Does anyone expect that he will return in two months and admit the mission is hopeless? More likely, Petraeus will ask for more time and argue that political pressure not be allowed to pull out the rug from underneath potential success. Surely, that's what Bush wants to hear."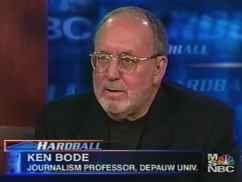 In conclusion, Bode adds, "'The battle is for the mind of the president,' said Lugar. Unfortunately, that is a discouraging prospect. On Independence Day, Bush called for 'More patience, more courage, more sacrifice.' And in his speech in Cleveland this week, the president made it clear that he believes victory is still possible, saying 'I strongly believe we will prevail.' His approval rating is down to 29 percent and support for the war is at about the same level. Fortunately, very few Americans still share his delusions."
Read the complete op-ed at the College News.org.
Ken Bode, a former network news journalist, was quoted in Thursday's New York Times. Learn more in this story.
Source: Indianapolis Star
Back