"Exciting" New Game for All Ages Announced by EA's Kathy Vrabeck '85
July 19, 2007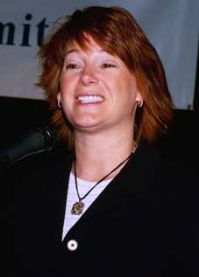 July 19, 2007, Greencastle, Ind. - "Part of our charter is to offer entertaining and stimulating games for the whole family," says Kathy (Patterson) Vrabeck, president of EA Casual Entertainment and 1985 graduate of DePauw University. Patterson's company, a newly-formed subsidiary of Electronic Arts, announced that it will release the first Wii trivia game in time for the holiday season. An announcement from the company states, "The Wii trivia game levels the playing field for friends and family, combining age-targeted trivia with action-based gestures, making it a truly trans-generational game for the Wii."
Adds Vrabeck, "The prospect of kids being able to play with friends and parents on a level playing field is exciting."
The Wii game system is manufactured by Nintendo. "The EA Casual trivia game for the Wii tailors questions to the contestant's age, allowing

friends and family members ages eight to eighty to play simultaneously. The game tracks every player's answers, and adjusts the difficulty level to provide continuous stimulation and challenge," reports EA.
Learn more at Yahoo! Finance.
Back