Edward Lehman '82 Appointed Guest Professor at Shanghai Law School
July 21, 2007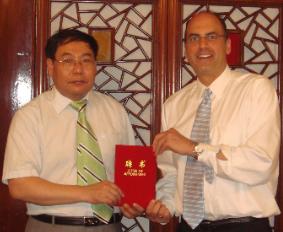 July 21, 2007, Greencastle, Ind. - Edward Lehman, managing director of Lehman, Lee and Xu and 1982 graduate of DePauw University, has been appointed a guest professor at Shanghai Jiaotong University School of Law, for a period of 3 years. Lehman has practiced law and lived in China for two decades. He has also been associated with the China University of Political Science and Law in Beijing, the China Academy of Social Sciences (CASS), Xavier University, and he has been an associate professor of law at Macau University of Science and Technology. (photo: Lehman with Zheng Chenghang, dean of the law school)
Established in 1992, Lehman, Lee & Xu was one of the China's first law firms and is today one of the country's largest and most successful legal practices.
Ed Lehman's personal accomplishments includebeing the first and only foreign lawyer to work at a Chinese state-run law firm since 1949, as well as the first foreign lawyer to manage a Chinese law firm since the founding of the People's Republic. In 1989 he was appointed
legal counsel by the Chinese government to establish the Shanghai Stock Exchange, and in 1994 was the legal counsel to the United Nations and UN Development Programs for the 4th World Women's Conference in China. Lehman also established the first franchise and first not-for-profit in China and was the first foreign lawyer named as a fellow at the prestigious "think tank" at the China Academy of Social Sciences. There, he assisted with suggestions to the amendments to Chinese laws governing taxes, trusts, patents and trademark Law, as well as regulations for not-for-profit and non-governmental organizations and the Chinese tax and trusts laws.
Details can be found in this announcement, and learn more about Ed Lehman in a previous story.
Back