Prof. Brett O'Bannon and Lee Hamilton '52 Offer Observations on Iraq, US Policy
July 22, 2007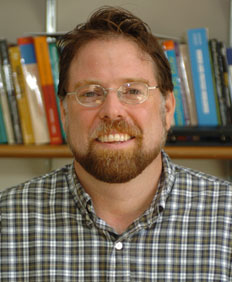 July 22, 2007, Greencastle, Ind. - "To some degree, American public opinion has been unrelated to the administration's policy," Brett O'Bannon, assistant professor of political science at DePauw University, tells the Terre Haute Tribune-Star. Dr. O'Bannon (pictured at left) and 1952 DePauw graduate Lee Hamilton are both quoted in a column by Mark Bennett which asks in its headline, "What will it take for the White House to hear Americans?"
Bennett writes, "In the past six months, two of the smartest guys ever to walk the halls of Congress -- Lee Hamilton and Richard Lugar -- issued clear plans to reverse the bloody, costly war in Iraq and begin withdrawing U.S. troops. A majority of Americans want those changes. They said so last fall, when incumbents in 22 U.S. House of Representatives seats and six Senate seats got voted out. And yet, those two separate, carefully crafted ideas from Hamilton and Lugar have received a condescending pat on the head." The columnist adds that despite low approval ratings, "The president seems unfazed by the sea of discontent."
Hamilton, who served 34 years in the House of Representatives and co-chaired the Iraq Study Group, states, "As long as he can have a veto-proof Congress, which he has at this time, he's in a very commanding position."
Of President Bush, Hamilton assesses, "His admirers would
say he's very principled, and his critics would say he's very stubborn." The veteran Democrat adds, "There's not been a real effort by the politicians and by the president to build a consensus" on Iraq. A "flourishing democracy is not possible for Iraq or the region, Hamilton tells the newspaper. The best scenario is to bring "stability" to the area.
Amid the ongoing debate, Hamilton states, "The Congress is not going to be able to end the war. They just don't have the votes. And the president cannot ignore the opposition to his policies, which is growing."
Read the complete column at the newspaper's Web site.
Lee Hamilton discussed the situation in Iraq last Monday on NBC's Today. Details can be found in this story.
Source: Terre Haute Tribune-Star
Back