Prof. Kevin Howley Contributes to Media Studies: Key Issues and Debates
July 23, 2007
July 23, 2007, Greencastle, Ind. - Kevin Howley, associate professor of communication at DePauw University, contributes a chapter to the new book, Media Studies: Key Issues and Debates. Dr. Howley's contribution is titled, "Community Media and the Public Sphere."
"Bringing together a range of renowned and newly emerging scholars in the field ... this book examines eighteen key issues within contemporary media studies," states a synopsis from the publisher, SAGE. "Written in an accessible student-friendly style, Media Studies: Key Issues and Debates is an authoritative landmark text for undergraduate students and teachers alike. Each chapter begins with a concise definition of the concept(s) under investigation, followed by a discussion of the current state of play within research on the specific area. Chapters contain case-studies and illustrative materials from Europe, North America, Australia, and beyond. Each chapter concludes with annotated notes, which guide readers in terms of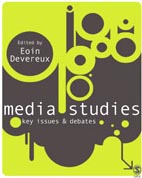 future study."
Order the book at the publisher's Web site.
Kevin Howley is the author of Community Media: People, Places, and Communication Technologies, which was published in 2005 by Cambridge University Press.
The professor authored an op-ed on "net neutrality" for the Indianapolis Star which was published June 11, 2007. Access the column via this previous story.
Back