Indiana Charity Founded by Washington C. DePauw Facing Challenges
July 25, 2007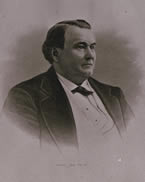 July 25, 2007, Greencastle, Ind. - "Rich and then some from business, primarily glassmaking, [Washington C.] DePauw, a New Albany resident, gave away money about as readily as he earned it. DePauw University, in Greencastle, is not named for DePauw because of his looks," notes today's
Louisville Courier-Journal
. The benefactor of the University is highlighted in a column that reports on the dwindling resources of the Washington C. DePauw United Charities, established in
1887 upon Mr. DePauw's death
to provide charitable funds to the New Albany, Indiana community.
After 120 years, "A little more than $7,000 remains" in the DePauw United Charities coffers, writes Dale Moss. "The interest from that sum is not of immense interest. Too little to boost the New Albany area as Washington C. DePauw envisioned ... No one seems certain how much money DePauw left the cause more than a century ago. And no one feels satisfied how DePauw's gift to the community has dwindled, apparently due to investment missteps. Only about $600 could be awarded this year, for puppet shows at the public library."
Over the years, DePauw United Charities helped build a small hospital, a youth shelter, and a kindergarten which was available to residents free of charge. The board is now raising funds in hopes of restoring the
charity's ability to aid the community.
"We want to make people aware his (DePauw's) benefits are far-reaching," says director Martha Ritz. Adds board member Doris Holmes, "This is our history. And Mr. DePauw was a very prominent part of it."
Access the complete column at the newspaper's Web site.
The gift of Washington C. DePauw to Indiana Asbury University was announced in 1882.  In January 1884 at Meharry Hall, the institution celebrated its new name, DePauw University.
Back