"Bush is So Ready to be Misled" on Iraq, Opines Prof. Ken Bode
July 27, 2007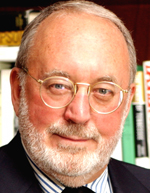 July 27, 2007, Greencastle, Ind. - "One of the lessons President John F. Kennedy learned indelibly in the 1000 days of his presidency was not to trust the generals," begins Ken Bode's Indianapolis Star column today. "In every instance -- the Bay of Pigs, the Cuban missile crisis, Berlin and Vietnam -- they were ready to push America beyond where Kennedy thought it safe to go," continues Bode, Eugene S. Pulliam Distinguished Visiting Professor of Journalism at DePauw University. "President George W. Bush seems to have learned the opposite lesson from a war that has now gone on for twice the length of the entire Kennedy presidency."
The president, writes Dr. Bode, "has tried one general after another. They all tell Mr. Bush what he wants to hear. If we don't beat them in Iraq, they'll follow us home. Also, we can win in Iraq if we don't suffer a lack of will and snatch defeat from the jaws of victory."

The Bush administration now awaits the mid-September report from Gen. David Petraeus on how the troop surge is affecting the situation in Iraq. But the professor believes "the military has begun to prepare the groundwork for the Petraeus report" with recent quotes from generals and Pentagon moves which, he asserts, both suggest the report will caution against a withdrawal of U.S. forces from Iraq.
Bode, a former CNN and NBC correspondent, concludes, "We are in the midst of a public relations surge by the Pentagon, timed to coincide with Gen. Petraeus' Sept. 15 report, and designed to persuade The Decider to extend this war once again. Just before the 2004 election, Petraeus published an op-ed article in the Washington Post in which

he said, 'Iraqi leaders are stepping forward, leading their country and their security forces courageously.' He misled America then and I predict he'll do the same in September. But, then, Mr. Bush is so ready to be misled."
Access the complete column at College News.org.
Last Friday, Ken Bode argued that the timing is not right for impeachment of the president and vice president. Learn more in this story.
Source: Indianapolis Star
Back