"Enlightened Management" of Ron Stiver '96 Transforming Indiana's BMV: Star
July 28, 2007
July 28, 2007, Greencastle, Ind. - "Ron Stiver, a former Eli Lilly and Co. executive hand-picked by Gov. Mitch Daniels to fix the BMV, is proud of the progress that's been made since he took over last October," notes an Indianapolis Star editorial praising the leadership of Stiver, a 1996 graduate of DePauw University. "If you've been to a Bureau of Motor Vehicle branch lately, you might have noticed an improvement in services. Average wait times are much shorter, computers are working and employees are testing new consumer-relation skills they learned in recent workshops."
The column continues, "BMV, a government operation with a bad reputation only a year ago, seems to be prospering from an infusion of enlightened management. It's now being run like the near-billion-dollar business it is."
Stiver tells the newspaper, "We've focused on moving forward, not on the blame game. The governor told me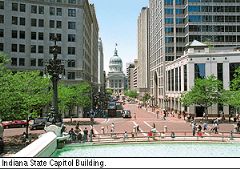 to make it right for the customers, and that's what we're trying to do."
The editorial adds, "Though progress is apparent, all is not perfect at the BMV. Stiver warns there's still much to do, including improving online services. But he quickly adds that morale among the 2,200 employees is generally up -- an indication that they, too, feel better about what they are doing. As good businesspeople do, Stiver promises to continue to chart progress on key customer service issues. He invites people to tell him about their BMV experiences."
Read the complete column at the Star's Web site.
Back