Poet and Former DePauw Prof. Maurice Manning to Present September 20 Reading
August 16, 2007
August 16, 2007, Greencastle, Ind. - Maurice Manning, award-winning poet and former DePauw University faculty member, returns to Greencastle on Thursday, September 20, as a guest of The James and Marilou Kelly Writers Series. Manning will present a 7:30 p.m. reading in the auditorium of DePauw's Richard E. Peeler Art Center. The event is free and open to all.
Manning's first book of poetry, Lawrence Booth's Book of Visions, received the 2000 Yale Series of Younger Poets Award, the longest-running poetry prize in America. The New York Times' Dwight Garner wrote in 2001, "In his first book ... Maurice Manning displays not just terrific cunning but terrific aim -- he nails his images the way a restless boy, up in a tree with a slingshot, nails anything sentient that wanders into view."
The most recent release by Manning, a DePauw professor from 2000-04 who now teaches at Indiana University, is Bucolics. Booklist's Ray Olson calls the collection an "extraordinary book." He explains, "A literary term, bucolics refers to poems about shepherds, who historically constituted the lowest class of rural society but gained thereby an aura of purity. The speaker of Manning's succession of untitled, unpunctuated short poems keeps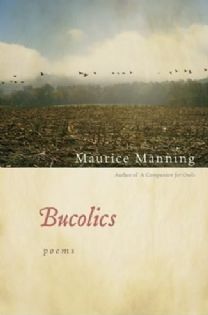 livestock but also tills the land and raises food plants; call him a very small farmer. Manning's speaker is keenly aware and appreciative of the nature immediately around him, including his own humanity. Like that greatest of pastoral poets, David, he talks with the one he understands to be responsible for it all, calling him Boss rather than Lord, because, unlike David, he is never king of anything nor ever will be. It is enough for him to talk with -- let's hazard the word, though Manning doesn't -- God and to work out perplexities in divine conversation. He expresses himself very colloquially, and some may be put off by just how bumpkinish he sounds. But get beyond that to discover a book that may come to be ranked with the Psalms and Blake's Songs of Innocence."
His works have appeared in the New Yorker, Shenandoah, the Southern Review, and Washington Square, among other publications.
Learn more about the Kelly Writers Series by clicking here.
Back