Journalistic "Intensity" of James B. Stewart '73 Cited in Washington Post
August 2, 2007
August 2, 2007, Greencastle, Ind. - "The [Wall Street] Journal of the mid-1980s was a demonstration of the proposition that good journalism and good business go hand in hand," writes David Ignatius in today's Washington Post. "This was the decade of the Wall Street dealmakers, and the Journal had a managing editor (Norman Pearlstine) and reporter/editor (James B. Stewart) who went after them with the intensity of journalistic Gordon Gekkos."
Stewart, a 1973 graduate of DePauw and chair of the University's Board of Trustees, won a Pulitzer Prize in 1988 for his reporting on the stock market crash and insider trading. He is now editor-at-large of SmartMoney magazine, has authored bestselling books -- including DisneyWar, Blood Sport and Den of Thieves -- and continues to contribute a column to the Journal.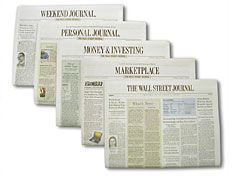 The Post column in which Stewart is cited follows "The Path That Led to Murdoch." Rupert Murdoch's News Corporation this week reached agreement on a $5.6 billion takeover of Dow Jones & Corp. and its prize asset, the Journal.
"At the Wall Street Journal of the mid-1980s, reporters would sometimes joke to each other, 'This is too good to last.' And they were right," writes Ignatius, who worked at the Journal from 1976-86. "It was a tough, canny paper -- whose front page each morning had more voltage even than the fiery editorial page. That balance began to change in the 1990s," he opines, as the editorial staff wielded more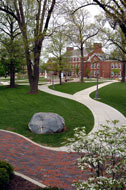 control over content.
"People will bemoan what Murdoch does to the Journal, no matter what it is," Ignatius concludes. "They will say that he is killing a great newspaper. But the sad part of this story is that 'the empire,' as we reporters once liked to call it, was already dying -- and that so many of its wounds were self-inflicted."
Read the complete column at the Post's Web site.
James B. Stewart appeared on the cover of the May 2007 edition of SmartMoney. Last year, he received the Gerald Loeb Award and was also the 2006 "Delta Chi of the Year."
Back