Prof. Ken Bode Reviews Biography of ABC's Roone Arledge For New York Times
March 13, 1994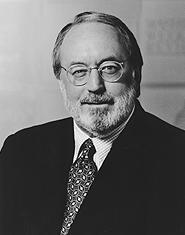 March 13, 1994, Greencastle, Ind. - "In an era when all three networks are run by managers of the bottom line, ABC News has transformed itself from loss leader to a top profit center," writes Ken Bode in today's New York Times. "That is a major reason Roone Arledge has remained president of ABC News for 17 years while the competition has rotated leadership like a pinwheel." Bode, director of the Center for Contemporary Media at DePauw University, reviews the new book, The House That Roone Built: The Inside Story of ABC News.
Once known as "the last with the least ... ABC News is now the undisputed leader in news," Bode asserts. "The House That Roone Built has enough in it about stars and salaries to assure a popular readership, but it also painstakingly chronicles the way Mr. Arledge moved a third-place news operation to the head of the class. Marc Gunther, a reporter for the Detroit Free Press who has published two books about sports, gives the reader endless detail about the personality and work habits of Mr. Arledge, who after modernizing television sports coverage, rose to the presidency of ABC Sports and then was greeted as a P. T. Barnum, likely to bring glitz, glamour and lower standards to the network, when he added news to his portfolio. Roone Arledge looms like a shadowy godfather, masterminding every programming decision, elevating his choices to power and prominence, then promoting the stars (Mr. Koppel, Peter Jennings, Barbara Walters, Sam Donaldson) and cutting loose those who he thinks fall short or those who fall out with the maximum leader
(Carl Bernstein, Geraldo Rivera)."
The host of PBS' Washington Week in Review, Bode notes, "Once in command on the news side, Mr. Arledge proved himself willing to use the rules he learned in sports, including the slow-motion instant replay and satellites. He also proved determined to give the viewers what they were interested in, not necessarily what they needed to know. On the day Elvis died in 1977, Mr. Arledge made that the lead story on the ABC evening news; the other networks led with a Washington story about the Panama Canal treaties. It may be the truest measure of Mr. Arledge's influence on television that on a comparable news day today, all the broadcasts would lead with Presley's death."
Read the complete text of Ken Bode's review at the Times' Web site.
Source: New York Times
Back